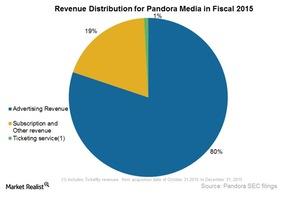 Could CÜR Media's New Music Service Be a Competitor for Pandora?
By Shirley Pelts

Updated
CÜR Media's music streaming service
Earlier in March, The Wall Street Journal reported that CÜR Media had launched a music streaming service priced at $1.99 per month that would offer eight on-demand songs per day. The new service is targeted towards college students and teenagers who have low disposable incomes.
The company's "Octo" plan at $1.99 per month offers Internet radio with "curated stations" and personalized playlists. This service is similar to Pandora Media's (P) free, ad-based service that offers listeners personalized playlists. CÜR Media's Octo also allows users to share music on social media and attach personal videos for a duration of eight seconds to songs.
Currently, Alphabet's (GOOG) YouTube also offers free ad-supported music to its listeners, and last year, YouTube also launched a free YouTube Music app, which is available with a YouTube Red subscription.
Article continues below advertisement
Increasing competition for Pandora
According to The Wall Street Journal report, CÜR Media's Chief Executive Officer, Tom Brophy, stated that the company "expected Pandora would have to start serving up more ads to drive revenue, making this an opportune time to launch cheap, ad-free alternatives." Currently, Pandora is facing increasing competition from Apple Music (AAPL), which has around 10 million subscribers, as well as from Spotify.
When we consider that advertising revenues comprised 80%, or $933.3 million, of Pandora's total revenues of $1.2 billion in fiscal 2015 (see above graph), it's reasonable to assume that Pandora would be interested in driving up its advertising revenues through more ads on its free service. But Pandora stated in its fiscal 2015 earnings call that it believes its subscription business will be worth $1.3 billion over the next five years. The company already has a 10% market share of the radio listening market in the US.
Teens and college students
It's also possible that competition from CÜR Media and other players in the low-cost, ad-free music streaming market could prompt Pandora to launch its own ad-free, low-cost music streaming service targeted at teens and college students. This service could be priced lower than its current music subscription service, "Pandora One" which costs around $5 per month.
Pandora makes up 0.02% of the iShares Russell 1000 Growth Index ETF (IWF), which has exposure of 6% to computers and holds 2.4% in Microsoft (MSFT).
In the next part, we'll explore CenturyLink's latest offering.