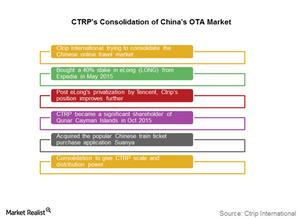 Why Is Ctrip Investing in Rival Online Travel Agency Companies?
By Ally Schmidt

Mar. 8 2016, Updated 12:07 p.m. ET
Industry consolidation
Ctrip.com (CTRP) has been busy trying to consolidate the Chinese online travel agency (or OTA) market by buying stakes in its potential and existing rivals. It has added many newer and lucrative services to its portfolio. This will help reduce competition among players and put an end to the price wars that have afflicted the industry for the last two years.
Let's analyze some of CTRP's key investments.
Article continues below advertisement
eLong deal
Ctrip bought a 40% stake in eLong (LONG) from Expedia (EXPE) in May 2015, after which they entered into a partnership with each other to share inventories in some geographies, especially in the air and packaged tours segments. In August 2015, Tencent, which held 16% of eLong, took eLong private by offering investors $18 per ADR (American depositary receipt).
Ctrip's buying of a stake in eLong had already reduced China's OTA price wars, which had been adversely affecting margins. Post-privatization of eLong by Tencent, Ctrip's position improved further, as it could now gain access to an important channel via Tencent's popular mobile messenger platform WeChat. This further strengthened the company's domestic stronghold and improved its dominance.
Qunar partnership
In October, Ctrip also completed a share exchange transaction with Baidu (BIDU), after which the company became a significant shareholder of Qunar Cayman Islands (QUNR). Ctrip and Qunar are currently exploring ways through which they can cooperate to enhance their respective products and services and better serve the market.
The deal is expected to take Ctrip's market share in Chinese hotel and airline bookings to about 70%–80%. The Qunar deal will also further reduce price wars and thus reduce advertisement spending.
Article continues below advertisement
Suanya acquisition
Ctrip.com acquired the popular Chinese train ticket purchase application Suanya in July 2015. This was a key acquisition, as Suanya was Ctrip's main rival in a market about seven times larger than air travel booking in the nation.
Conclusion
Ctrip now has stronger ties with the world's largest OTAs Expedia and Priceline (PCLN). Moreover, the company has been strategically investing in many lucrative companies and acquiring its rivals.
Further, CTRP's consolidation of the Chinese OTA industry gives it scale and distribution power, enabling it to take on the global OTA market. However, there is a risk that China's anti-monopoly regulator may come down on the company.
Ctrip is the largest holding of the Golden Dragon Halter USX China ETF (PGJ), accounting for 5.6% of its portfolio. Qunar (QUNR) is its closest competitor in China.