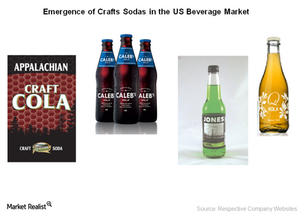 Craft Sodas: Now Trending in the Nonalcoholic Beverage Industry
By Sirisha Bhogaraju

Updated
Penchant for craft
The rise of craft beer had a drastic impact on the US beer industry. Craft beer volumes grew 17.6% in 2014, outperforming 0.5% growth in overall US beer industry volumes (Source: Brewers Association).
The US nonalcoholic beverage market is undergoing several innovations in the craft soda category. Craft sodas are brewed in small batches and contain natural ingredients, including natural sweeteners like pure cane sugar, stevia, and honey.
Article continues below advertisement
Key survey results
Mintel's "Carbonated Soft Drinks: Spotlight on Natural/Craft US 2015" report makes some interesting observations.
About three in five US adults agree that carbonated soft drinks made with natural ingredients are a better choice than drinks with artificial ingredients. Also, 34% of these adults are interested in carbonated soft drinks with additional benefits.
Only one-third of US adults currently drink craft sodas. However, 44% of non–craft drinkers are keen on trying craft products.
Recent innovations
In June 2015, PepsiCo (PEP) announced its plans to launch a new line of craft sodas called Stubborn Soda. The line's initial launch is planned only for soda fountains. PepsiCo's craft soda drink contains natural flavors and sugarcane instead of high-fructose corn syrup. Stubborn Soda is available in several flavors—like black cherry with tarragon, lemon berry acai, orange hibiscus, pineapple cream, and agave vanilla cream. In late 2014, PepsiCo launched Caleb Kola, a craft soda containing sparkling water, fair-trade cane sugar, and kola nut extract. PepsiCo constitutes 1.4% of the iShares Russell 1000 Growth ETF (IWF). Caleb Kola's competitors in the craft soda space include Reed's craft soda, Jones Soda, Appalachian Craft Soda, Sipp Organic Sparklings, and Q Drinks.
In March 2016, Coca-Cola (KO) announced that it was relaunching Hansen's and Blue Sky craft sodas with new branding and fresh packaging. Coca-Cola acquired these brands as part of a strategic deal with Monster Beverage (MNST). Currently, Dr Pepper Snapple (DPS) doesn't have a craft soda product.
Consumers' preference for natural ingredients and local products is likely to drive demand for craft sodas.