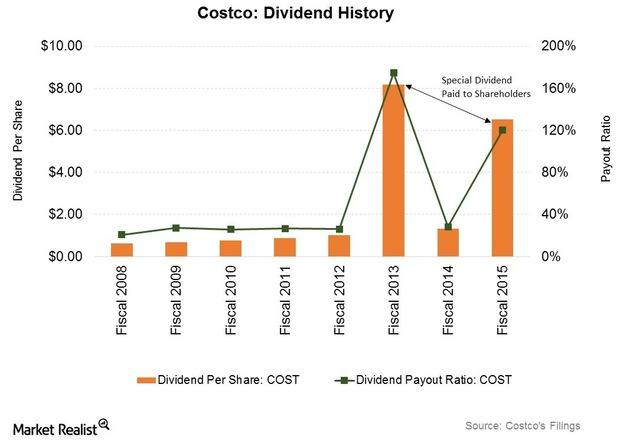 Comparing Costco's Dividend Policies with Other Big-Box Retailers
By Phalguni Soni

Nov. 22 2019, Updated 6:43 a.m. ET
Costco has been increasing shareholder value
Costco Wholesale's (COST) current dividend stands at $0.40 per share each quarter. This works out to a DPS (dividend per share) of $1.60 annually. In fiscal 2015, the company paid $1.51 per share as its annual dividend, and Costco's annual DPS has increased at a compounded annual growth rate of 14.4% between fiscal 2010 and fiscal 2015.
Costco has also been returning cash to shareholders via special dividends from time to time. The retailer paid out special dividends of $7.00 and $5.00 per share in fiscal 2013 and 2015, respectively, over and above its annual dividend. The company issued debt in both these years. The company's payout ratio rose from 20.7% in fiscal 2008 to 28.4% in fiscal 2014. In fiscal 2015, the dividend payout ratio came in at 120.5% higher due to the special dividend.
Article continues below advertisement
Dividend yield
Costco was trading at a forward dividend yield of 1.1% as on March 3, 2016. By contrast, peers Wal-Mart Stores (WMT) and Target (TGT) were trading at 3% and 2.8%, respectively, as of the same date. Other big-box retailers like Best Buy (BBY) and Home Depot (HD) have been trading at 3.4% and 2.2%, respectively.
While Costco's dividend yield is far lower than the other companies we've considered, its occasional special dividend can even up the attractiveness somewhat, compared to dividend aristocrats (SDY) Walmart and Target.
Share buybacks
Costco has also been returning value to shareholders via share buybacks (PKW). The company repurchased 898,000 shares worth $130 million in fiscal 1Q16, with the cost of each share averaging $144.88. Costco also repurchased a further 531,000 shares in the second quarter for $80 million, with the cost per share averaging below $150. The company's stock price was trading at $151.60 on March 3.
That being said, the company has been choosy about the amount and timing of its buybacks. According to Chief Executive Officer Richard Galanti, Costco looks "at kind of a matrix pricing," explaining that "as it goes up a little, we buy a little less," and that "when it comes down a little, we buy a little more." About this approach, Galanti specified that "as long as we feel comfortable about our runway, I think we'll continue to do that."