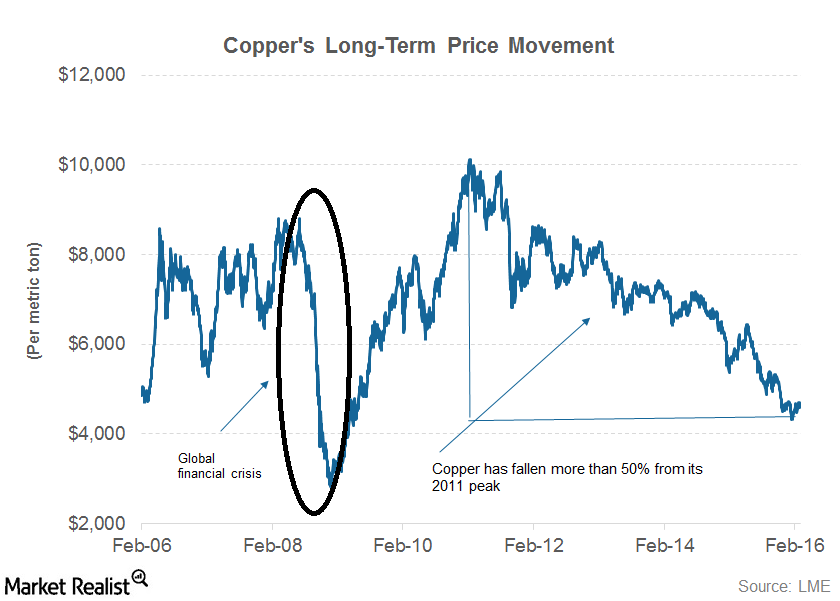 Is China's State Reserve Bureau Stockpiling Supporting Copper?
By Mohit Oberoi, CFA

Mar. 18 2016, Updated 9:04 a.m. ET
China's State Reserve Bureau
As discussed previously, the huge spike in China's copper imports does not seem to be supported by the end user demand. Furthermore, though copper inventories in the SHFE (Shanghai Futures Exchange) have risen this year, we have also seen a decline in bonded stocks. The increase in SHFE inventory has been more than balanced by the decline in bonded stocks. So, the question remains: where's the copper going? Let's look at another angle.
Article continues below advertisement
Stockpiling
China's State Reserve Bureau (or SRB) stockpiles raw materials for the country. Oil and copper are two critical commodities that China is deficient in and must import in large quantities. Earlier this year, Reuters reported that China's SRB has bought 150,000 metric tons of copper. Now, that's quite a big number when we look at annual copper consumption that is expected to reach 23 million metric tons this year.
Note that copper producers including Freeport-McMoRan (FCX) and BHP Billiton (BHP) expect the markets to be in a surplus this year. You can define surplus as production in excess of demand. However, copper stockpiling by the SRB can easily turn the expected surplus this year into a deficit.
Does it make sense?
It would make sense for China to stockpile copper at current rates. Copper prices are at multiyear lows as can be seen in the graph above. Moreover, copper's long-term price outlook is better than some of the other industrial metals. Also, falling copper prices had forced many Chinese smelters to announce capacity curtailments. By buying copper, the SRB seems to be aiming at two objectives: ensuring the country's raw material needs and supporting domestic smelters.
Will the SRB buying be enough to support copper in the remainder of 2016? We'll explore this in the next part of the series.
Investors looking to diversify the risk of investing in a single security can also consider the SPDR S&P Global Natural Resources ETF (GNR). Together, Rio Tinto (RIO) and Glencore (GLNCY) form 4.4% of GNR's portfolio.