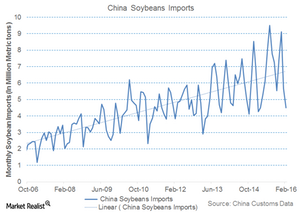 How China's Soybean Imports Could Affect US Exports
Chinese soybean imports fall
China, the top soybean importer in the world, reported February 2016 imports of 4.5 million tons, a year-over-year rise of 6%. However, China's soybean imports were 20% lower month-over-month compared to January 2016. The February indicator beat the analyst consensus of 4 million tons during the period.
Expectations from February soybean imports were weaker for two reasons. There was a country-wide shutdown for the Lunar New Year that disrupted the processing units. There were delays in the Brazilian shipments. Now that operations have resumed, fresh South American supplies in the near term could drag the prices down more. Uncertainty about the size of the Brazilian crop has already pulled prices to decade lows. According to Commerzbank, we could see a significant rise in soybean imports from China.
Article continues below advertisement
Analysts from Australia and New Zealand believe the pace of soybean international trade could increase due to the record level of world supplies. Analysts anticipate that the high soybean inventories could keep prices under pressure in the near term, which will likely affect soybean products such as soybean meal and soybean oil. Only time will tell if, amid the ample supply from South America, the US could gain from the export opportunity.
The above chart highlights the increasing Chinese soybean import demand over the nine-year period. The chart suggests that the rising soybean imports have increased volatility since February 2011. However, the trend suggests a steady rise in soybean import demand from China.
Stock discussion
Fertilizer companies might not benefit from increasing soybean prices, as estimates suggest that prices could be under pressure from the high international supply. Lower prices would reduce farm incomes and could negatively affect companies such as Agrium (AGU), Terra Nitrogen Company (TNH), Chemical & Mining Co. of Chile (SQM), and Mosaic Company (MOS), which benefitted on March 9, 2016. The iShares MSCI China Index Fund (MCHI) could gain from stronger demand prospects in the near term.