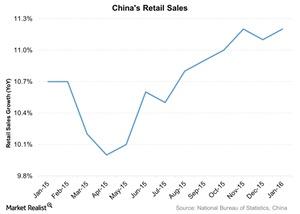 China's Retail Sector Emerged as a Bright Spot in Slowing Economy
By Lynn Noah

Mar. 1 2016, Updated 2:10 p.m. ET
China's retail sector shines
China is facing an economic downturn, but Chinese consumers are hopeful about its economy. According to Boston Consulting Group, China's total retail sales are forecasted to grow by 50% to $6.5 trillion by 2020 with online transactions growing by nearly 25%.
Retail sales were up by 11.2% in January 2016 due to Lunar New Year holiday shopping. In 2015, retail sales grew by 10.7% YoY to 30.09 trillion yuan, slower than the 12.0% increase recorded in 2014. Urban retail sales of consumer goods were up by 10.5% YoY to 25.9 trillion yuan.
Rural areas have become a major source of retail sales growth. Retailers are focusing on rural China to increase the penetration of e-commerce. In 2015, rural retail sales were up by 11.8% to 4.19 trillion yuan.
Article continues below advertisement
E-commerce played a major role in driving up retail sales. In 2015, the national online retail sales of goods and services grew 33.3% YoY to 3.88 trillion yuan, according to the National Bureau of Statistics of China. Some of the leading players in China's e-commerce segment are Alibaba Group Holdings (BABA), Baidu (BIDU), JD.com (JD), NetEase (NTES), and 58.Com Inc. (WUBA).
According to Fortune Character, a luxury product consulting firm, Chinese consumers accounted for 46% of global sales of luxury products in 2015.
Transition from export-oriented economy to consumer-driven economy
After a slowdown in demand and rising debt levels in the manufacturing sector and reduced dependence in the export business, China is shifting its focus to a consumption-driven economy. Although this transition would be painful in the near-term, it has the potential to deliver robust growth to China in the long term.
Mutual funds such as the Templeton China World Fund (TCWAX) and the Fidelity Advisor China Region Fund – Class A (FHKAX) have exposures of 31.3% and 21.5%, respectively, to the consumer discretionary and consumer staples sector combined. These funds stand to gain immensely due to positive performance in the retail sector.
After having a brief overview of China's macroeconomic indicators, let's begin our assessment of China-focused mutual funds.