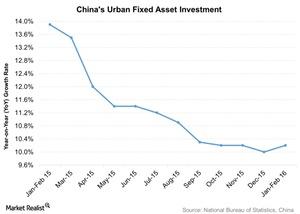 China's Fixed Asset Investment Inches Up with New Infrastructure
By Lynn Noah

Mar. 18 2016, Published 6:00 p.m. ET
China's fixed asset investment rose slightly in January and February
According to the National Bureau of Statistics (or NBS), China's urban fixed-asset investment grew by 10.2% year-over-year (or YoY) to 3.8 trillion yuan in the first two months of 2016. In February, the investment in urban fixed assets increased 0.83% on a month-over-month basis, up from 0.68% in December.
Fixed-asset investment is considered as a key driver of economic growth, and the data indicates that continued decline in the fixed investment is due to a slowdown in demand. As a result, investment in factories, machinery, property, and other fixed assets have declined considerably year-over-year.
Article continues below advertisement
Breakdown of fixed investment data
In the January–February period, fixed-asset investment in agriculture was up by 34.3%, followed by an 11.1% increase in the service sector and a 7.9% rise in the secondary industry.
In the first two months of 2016, investments by foreign companies increased by 6% YoY. Last year, investments from foreign companies declined by 2.8%.
Funding growth for fixed asset investments increased by 0.9% to 5.9 trillion yuan. This is a sharp decline from the 7.7% increase in 2015. Of these funds, the government budget increased by 10.9%.
In a separate report issued by the National Bureau of Statistics of China, Chinese real estate investment increased by 3% YoY for the first two months of 2016. Real estate investment is considered essential to driving growth in China and affects ~40 other Chinese business sectors.
China's plan to prop up fixed asset investment
China's central government has pledged to increase investments in infrastructure projects and public services. According to Zhao Chenxin, spokesman of the National Development and Reform Commission (or NDRC), a total of 15 new fixed asset investment projects worth 34.1 billion yuan ($5.3 billion) have been approved in March 2016.
The government is particularly focusing on infrastructure development in areas such as water conservation and environmental management. However, investment in the manufacturing sector and real estate sector is slow due to high inventory and the increased cost of development.
The rise in fixed asset investment is positive for metals companies such a Freeport-McMoRan (FCX), Glencore (GLNCY), Alcoa (AA), and Rio Tinto (RIO), as it would result in higher revenues for these companies. Similarly, mutual funds such as the Fidelity Advisor China Region Fund – Class A (FHKAX) and the Templeton China World Fund – Class A (TCWAX), which have ~6% exposure to the materials sector, stand to gain in the medium term.
In the next article, we will look at China's retail sales data.