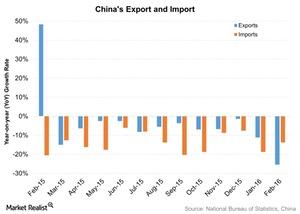 China's Exports Fell in February amid Lackluster Global Demand
By Lynn Noah

Updated
China's exports and imports
According to the General Administration of Customs, China's exports—in US dollar terms—fell sharply by 25.4% YoY (year-over-year) in February—compared to a decline of 11.2% in January. It was the largest decline since May 2009. Meanwhile, imports fell by 13.8% YoY—compared to an 18.8% drop in January. It's argued that the unexpected drop in foreign trade was mainly due to the change in the timing of the Lunar New Year celebration. It fell in February this year. Chinese firms wrapped up their business at the end of the January. Factories were closed and shipments were halted to celebrate the Lunar New Year.
China's trade surplus fell drastically due to lower commodity prices and sluggish demand. It stood at $32.6 billion in February—down from $63.3 billion in January.
Article continues below advertisement
February's data clearly point to the slump in domestic and foreign demand. China's exports to South Korea and Taiwan have fallen sharply. China's shipments to major trading partners such as the US, Canada, Germany, and France fell by more than 20% in February. This showed that the yuan weakening by almost 6% against the US dollar since August 2015 hasn't provided the desired boost to China's exports.
Meanwhile, imports were impacted due to a contraction in China's industrial sector. China is a major importer of crude oil, copper, and iron ore. The prices of these commodities fell sharply. Most factories are already sitting on a large stock of commodities. This led to lower demand for these commodities. As a result, the imports of crude oil, copper, iron ore and other commodities fell. Read China's Trade Data: What Does It Mean for Metal Investors? for more information.
Article continues below advertisement
Reforms
The latest foreign trade data call for more stimulus measures from Chinese authorities. The 12th National People's Congress annual meeting will run until mid-March. Chinese Prime Minister Li Keqiang pledged to ensure that the economy grows 6.5% this year. He said that the government would use infrastructure spending, tax cuts, monetary policy, and a higher budget deficit to support the slowing economy.
Impact on mutual funds and ETFs
Slowing exports and imports due to weak demand and the fall in commodity prices directly impacts the revenues and margins of Chinese ADRs (American depositary receipts) such as China Mobile (CHL), CNOOC (CEO), PetroChina (PTR), and China Petroleum & Chemical (SNP).
Investors can get exposure to China equity markets through China-focused mutual funds or ETFs. Mutual funds such as the Clough China Fund – Class A (CHNAX), the Guinness Atkinson China and Hong Kong Fund (ICHKX), the Eaton Vance Greater China Growth Fund – Class A (EVCGX) and ETFs such as the iShares China Large-Cap ETF (FXI) are invested in the Chinese companies mentioned above. As a result, their performance is also impacted negatively.