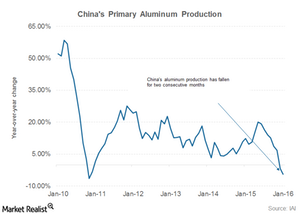 Is China Really Cutting Its Aluminum Production?
By Mohit Oberoi, CFA

Mar. 9 2016, Updated 11:05 a.m. ET
Aluminum production
Previously in this series, we discussed how there are huge variations in aluminum market projections for 2016. However, there is a broad-based consensus that global markets outside of China will see aluminum deficits in 2016. Therefore, whether global markets will record a surplus or deficit in 2016 will largely depend on Chinese aluminum production.
Article continues below advertisement
Chinese aluminum production falls
According to the data released by the International Aluminum Institute (or IAI), China (FXI) produced 2.5 million metric tons of aluminum in January, a YoY (year-over-year) decline of ~4.5%. This is the second consecutive month where Chinese aluminum exports have fallen on a YoY basis. The decline in Chinese aluminum production is a welcome sign for aluminum producers including Alcoa (AA), Norsk Hydro (NHYDY), Rio Tinto (RIO), and Century Aluminum (CENX). Notably, we are seeing a decline in Chinese aluminum production for the first time since December 2010. Chinese aluminum production has increased at a rapid pace for the last five years as the graph above shows.
Chinese aluminum exports
While Chinese aluminum smelting capacity has increased over the last few years, the country's demand growth rates have fallen. This created surplus aluminum in China prompting Chinese producers to sell their produce overseas. Chinese aluminum exports wreaked havoc in global markets last year, leading to multiyear low aluminum prices. Physical aluminum premiums also fell steeply as Chinese aluminum exports flooded international markets.
However, cynics doubt that China is actually curtailing its aluminum capacity. A Reuters report points to the upward revision in Chinese aluminum production between 2011 and 2014. The global primary aluminum production data published by the IAI has a separate line item for unreported Chinese production.
So what should investors do given the huge variation in 2016 estimates? We'll explore this aspect in the next part of the series.