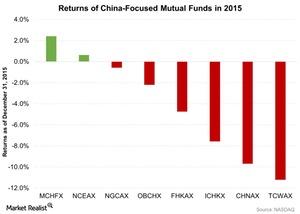 China-Focused Mutual Funds: Slowing GDP, Growth after Expansion
By Lynn Noah

Mar. 1 2016, Updated 10:45 a.m. ET
Why is China important to global markets?
With a rapid wave of economic expansion, China emerged as a world's second-largest economy in 2010 behind the US, after being the fifth largest in 2002. In the last decade, China's gross domestic product grew by 10.6%.
China became the second-largest importer of goods and services in the world with Thailand, Indonesia, South Africa, Brazil, Japan, the Eurozone, the United Kingdom, and the United States being its main trading partners.
Article continues below advertisement
According to a report by Oleg Melentyev of Deutsche Bank, 70% of all smartphone sales comes from outside of North America and Europe, while 45% of smartphones are sold in the BRIC (Brazil, Russia, India, and China) countries. This directly impacts the revenues of tech majors such as Apple (AAPL), Microsoft (MSFT), and Alphabet (GOOG).
Moreover, social media companies like Facebook (FB) and Twitter (TWTR) generate large advertisement revenues from emerging market countries. Plus, 62% of all international students in the US are coming from China. Most of these goods and services sold internationally do not register as exports from the US as they are assembled, provided, delivered, and booked by non-US subsidiaries of multinational corporations.
After the Great Recession
Since the Great Recession of 2008, the Chinese economy has been headed south. In 2015, China's GDP came in at 6.9%, the lowest in the past decade. Tom Orlik, the author of Understanding China's Economic Indicators, wrote in the Wall Street Journal, "China's GDP data is haunted by controversy, with widespread doubts about its accuracy."
The IMF (International Monetary Fund), in its January 2016 update to the World Economic Outlook, has cut its global growth forecast and reported that the world economy would grow at 3.4% in 2016 and 3.6% in 2017, mainly due to Chinese slowdown and falling oil prices. Meanwhile, the IMF forecast China's economic growth at 6.3% in 2016 and 6.0% in 2017, which represent sharp slowdowns from 2015.
Stock market volatility
The surge in Chinese stocks looks to be driven more by sentiments than by fundamentals. Share valuations are not based on market forces, and margin trading is high. The memories of the stock market crash in June and August 2015 are still fresh in the minds of the investors, which led to the freefall of other major stock markets across the globe.
However, China's financial market regulators did their part to curb the rout by imposing a ban on initial public offerings (IPOs), restrictions on margin trading, allowing government-managed pension funds to invest in stock markets to inject capital into the market, and banning large shareholders from selling. But these measures proved to be of little help to curb the volatility in stock market. Thus, China-focused mutual funds were adversely impacted, and the Templeton China World Fund – Class A (TCWAX) and the Clough China Fund – Class A (CHNAX) posted negative returns in 2015.
In the next article, we will look at some of the China's macroeconomic indicators and how they impact Chinese economy.