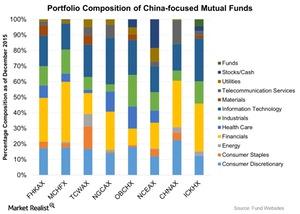 China-Focused Mutual Funds: For Long-Term Adventurous Investors
By Lynn Noah

Mar. 15 2016, Updated 9:04 p.m. ET
China-focused mutual funds
In this series, we've reviewed eight China-focused mutual funds in terms of their performance and portfolio composition. The Fidelity Advisor China Region Fund – Class A (FHKAX) was the largest fund according to asset size. The Oberweis China Opportunities Fund – (OBCHX) and the Clough China Fund – Class A (CHNAX) each have the highest expense ratio of 1.95%.
Article continues below advertisement
Portfolio composition
The financials, consumer discretionary, and information technology sectors dominate the top three positions in most of the funds. As of December 31, 2015, CHNAX has the highest exposure of 22.5% to the consumer discretionary sector while the Matthews China Fund (MCHFX) has the highest exposure of 38.5% to the financials sector.
The Columbia Greater China Fund – Class A (NGCAX) has the highest weight of 29.9% to the information technology sector. In the IT sector, the top contributors are NetEase (NTES) and Tencent Holdings Limited (TCEHY). The Oberweis China Opportunities Fund – (OBCHX) has the highest weight of 14.2% to the healthcare sector, which is defensive in nature and tends to outperform during a market slowdown. China Biologic Products (CBPO) is the top performer in the healthcare sector.
So, investors can choose from the above eight China-focused mutual funds according to their preference for some sectors over others. Mutual funds can be the instruments of choice for retail investing in stocks from the region due to their benefit of diversification. For now, superior bottom-up stock picking could work better than a passive strategy for the region. Investors should always bear in mind that past performance does not guarantee future performance.
All eyes are on China: The world is watching
We believe that 2016 could be challenging for the Chinese economy. Further, China is still very much a closed economy. But now the time has come for the Chinese government and its central bank to open up and become more transparent as the world is keeping a close watch on China.
The need of the hour is for the Chinese government to take aggressive measures rather than baby steps to put the economy back on the growth track. But how effective these measures could prove to turn around the slowing economy, only time will tell. Until then, stay updated with the latest developments in the Chinese markets.
For more analysis on mutual funds, please visit Market Realist's Mutual Funds page.