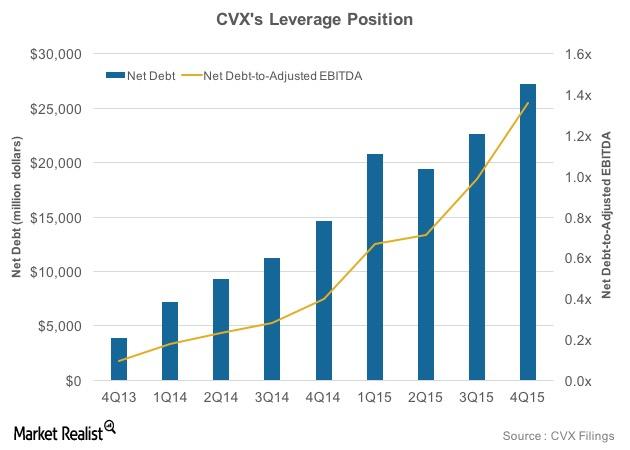 Chevron's Leverage Position: Comfy or Cramped?
By Maitali Ramkumar

Mar. 15 2016, Updated 11:06 a.m. ET
Chevron's leverage position compared to peers
Chevron's (CVX) net debt-to-adjusted EBITDA (earnings before interest, tax, depreciation, and amortization) stood at 1.4x in 4Q15. This is higher than the average ratio of 1.1x of Exxon Mobil (XOM), BP (BP), and Royal Dutch Shell (RDS.A). Notably, the Vanguard High Dividend Yield ETF (VYM) has 10% exposure to energy sector stocks and contains XOM and CVX in its portfolio.
Debt-to-capital ratio shows a firm's leverage position and capital structure. In 4Q15, CVX's total debt-to-capital ratio stood at 20.2%. This is below the peer average of 26.5% for XOM, BP, and RDS.A.
Article continues below advertisement
Analyzing Chevron's leverage
Chevron's net debt-to-adjusted EBITDA ratio rose from 0.09x in 4Q13 to 1.4x in 4Q15. The company's net debt rose from $3.9 billion in 4Q13 to $27 billion in 4Q15 on account of the rise in its total debt coupled with a fall in cash and equivalents. But its total debt rose steeply—by 89%—over 4Q13 to $38.6 billion in 4Q15. This rise in total debt was to fund capex, pay dividends, and shares buyback (until 2014). Notably, cash and equivalents fell by 31% over 4Q13 to $11 billion in 4Q15.
Lower ratio than peers
CVX's adjusted EBITDA fell during 4Q13–4Q15 on account of lower earnings in its upstream segment. Falling adjusted EBITDA coupled with rising net debt during 4Q13–4Q15 led to a rise in net debt-to-adjusted EBITDA multiple.
However, CVX's total debt-to-capital ratio is lower than its peers, placing CVX in a likely comfortable leverage position. Such a capital structure provides CVX leeway to utilize balance sheet strength to combat lower cash flows in a sinking oil price scenario. But in doing so, ascertaining the right limit, which will not strain the financial flexibility and strength, will be imperative for the company—and a key factor for investors to watch.