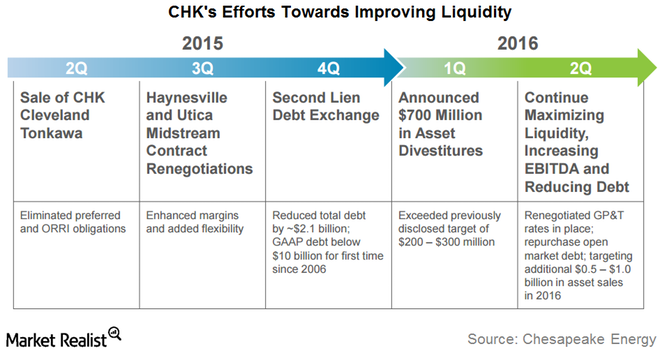 Chesapeake's Key Strategies Aligned with Volatile Price Environment
2016 cost guidance
Chesapeake Energy (CHK) expects to reduce the base decline rate of its wells by ~10% this year. This will be instrumental to increasing its EBITDA (earnings before interest, tax, depreciation, and amortization). Also, the company continues to employ cost-efficient measures like it did in 2015. The company reduced its LOE (lease operating expenses) per barrel of oil equivalent by 10% YoY (year-over-year) in 2015. Its G&A (general and administrative) expenses fell 24% YoY. This year, Chesapeake Energy expects its LOE and G&A expenses per barrel to decline by 10% and 15%, respectively.
Article continues below advertisement
Asset sales
Chesapeake Energy is planning asset sales worth $500 million–$1 billion in 2016, excluding the $700 million asset sales it announced in its 4Q15 earnings. Therefore, the total divestments will amount to $1.2 billion–$1.7 billion in 2016.
Upstream companies such as Marathon Oil (MRO), Hess (HES), and Anadarko Petroleum (APC) also made asset sales one of their key strategies to bolster financial strength while energy prices (USO) (UNG) are low. Combined, these companies account for 4% of XLE.
Debt exchange and revolving credit amendment
In December 2015, Chesapeake Energy completed a debt exchange. It converted $3.8 billion of unsecured debt into new second-lien notes. During 3Q15, Chesapeake Energy amended its revolving credit facility to a $4.0 billion senior secured revolving credit facility from a senior unsecured revolving credit facility.
Article continues below advertisement
Layoffs and restructuring of gathering agreements
In September 2015, Chesapeake Energy reduced its workforce by ~15% to reduce costs.
Recently, the company restructured its gathering, processing, and transportation agreements to improve the per-unit rates. This will enhance volume growth and fulfill minimum volume commitment.
Chesapeake's hedges
Chesapeake Energy hedged 58% of its projected 2016 natural gas production volumes at ~$2.84 per thousand cubic feet. It hedged 56% of its projected 2016 oil production volumes at ~$47.79 per barrel.