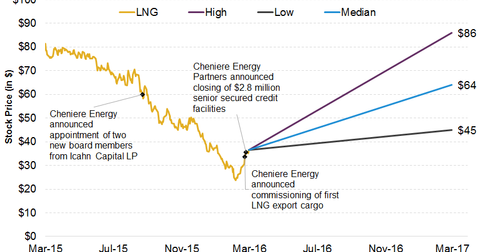 Cheniere Energy Commissioned First LNG Export Cargo
By Kurt Gallon

Updated
Cheniere Energy commissioned first LNG cargo
Cheniere Energy (LNG) and Cheniere Partners (CQP)—its midstream subsidiary—are ready to start a new era in the US natural gas industry with the commissioning of the first LNG (liquefied natural gas) export cargo from the US. Previously, the US exported LNG from Alaska. Cheniere's first LNG cargo is headed to Brazil. It's being loaded at the Sabine Pass terminal. We'll discuss this more in the next two parts.
Article continues below advertisement
LNG "is a clear, odorless, noncorrosive, nontoxic liquid that is formed when natural gas is cooled to around -260 Fahrenheit. This shrinks the volume by about 600 times, making the resource easier to store and transport through marine shipments." Then, the liquid is converted back to dry natural gas at regasification plants.
Icahn Capital invested in Cheniere Energy
Icahn Capital is promoted by well-known investor Carl Icahn. Last year, it disclosed its investment in Cheniere Energy. Icahn Capital holds ~13.8% in Cheniere Energy. It placed two members on the company's board in August 2015. However, not many investors are optimistic about the LNG opportunity.
Analysts' targets for Cheniere Energy
At a broader level, ~72.7% of the analysts rate Cheniere Energy a "buy," 18.2% rate it a "hold," and the remaining ~9.1% rate it a "sell." The median target price of $64 for Cheniere Energy implies an ~72.7% price return in the next 12 months from its March 3, 2016, closing price of $37.1. Its midstream MLP subsidiary, Cheniere Partners, was rated a "buy" by 81.8% of the analysts surveyed by Bloomberg.
Cheniere's peers in the LNG segment, Dominion Resources (D) and Energy Transfer Equity (ETE) have a "buy" rating from 47.8% and 87.5% of the analysts, respectively. Cheniere Energy accounts for 0.59% of the Vanguard Energy ETF (VDE).