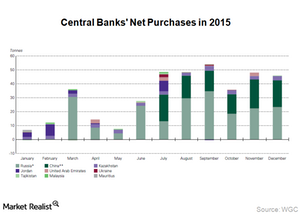 Do Central Bank Gold Holdings Point to a Bright Future for Gold?
By Anuradha Garg

Dec. 4 2020, Updated 10:53 a.m. ET
Central banks' race to hoard gold
Central banks have been net buyers of gold since the beginning of the financial crisis of 2008. According to data from IMF (International Monetary Fund), central bankers around the world purchased 590 million metric tons of gold, which accounted for ~14% of the annual gold demand. China, Russia, and Kazakhstan have emerged as the three most prominent countries buying gold. Central banks of these countries and others are using gold to diversify from currencies.
Article continues below advertisement
Russia hoarding gold
In December alone, Russia added 21.7 tons of gold to its reserves. The total gold added to the reserves was 206 tons in 2015, on top of 173 tons in 2014. Russia started hoarding gold in 2006. Back then, gold formed less than 4% of its reserves. Now, it forms close to 13%. It is planning on adding to its gold reserves.
China and Kazakhstan are also aggressive gold buyers. While Kazakhstan's gold reserves have jumped from 67 tons in 2010 to 222 tons, China's reserves have grown by 67% to 1,762 tons in the same time period.
What does this mean for gold prices?
Central banks' continuous increase of gold reserves seems to be a good omen for gold prices. Given the current geopolitical turmoil, countries—especially China and Russia—are expected to keep adding to their gold reserves. What's interesting is that these two countries' gold reserves, as a proportion of their total reserves, are still far below reserves of developed countries such as the United States, France, and Italy. While China holds only 1.8% of its reserves in gold, the United States holds 72%. This could lead to an upside to gold purchases for these countries and new demand from other countries as economic and political outlooks remain uncertain.
This, in turn, could be positive for the medium- to long-term outlook for gold prices (GLD) (IAU) and gold miners such as New Gold (NGD), Barrick Gold (ABX), and Royal Gold (RGLD). These three stocks make up ~13.3% of GDX.
Physical gold demand is another major determinant of gold prices. In the next part, we'll see how the demand for gold is expected to progress in China and India.