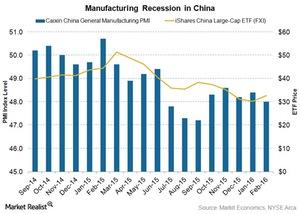 Can China's New Growth Drivers Wake the Dragon?
By Surbhi Jain

Mar. 28 2016, Published 2:18 p.m. ET
Growth has been receding in China
The dragon seems to be sleeping. The Chinese economy has been receding, and China saw its double-digit growth rates, recorded after the 2009 economic recession, fall to less than 7% as of fiscal 4Q15. Lack of aggregate demand has resulted in slowdown in China's economic activity.
Article continues below advertisement
What's weakening China?
The economy is experiencing an industrial recession. The Caixin Manufacturing PMI is published monthly by Markit. It shows that industrial growth in China has been contracting for almost a year now.
Moreover, China's demographics—one of the key reasons for its growth, power, and success over the last few decades—are also proving to be counterproductive. China (FXI)(ASHR)(YINN) has one of the oldest populations, with a median age of about 36 years. Changing demographics imply a fall in the working-age population combined with a rise in the number of retirees looking for social support.
Adding to this shift, China's stock market rollercoaster reflects inefficiencies that have crept into the financial system.
All the factors we've discussed here have weakened China's position as a superpower in the world economy (VTI)(VEU).
New growth drivers
Consequently, China's economy has now embarked on a new growth path. It's attempting to move to a more consumption-driven economy—an economy where consumer spending fuels growth. A rise in wages, the increased availability of cheap consumer credit, and inflation are other key factors that will need to drive growth on this path. Will these new growth drivers be able to wake the dragon from its slumber? We'll discuss the current state and future scope of these drivers and more as we move ahead in this series.
First, let's take a quick look at the current trend changes that validate this shift.