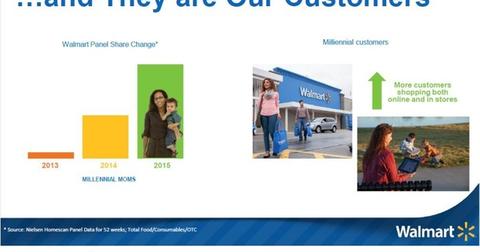 Can Millennials Drive Higher Store Traffic at Walmart?
By Phalguni Soni

Updated
Analyzing retailers' fixation with the Millennial demographic
Around 79 million people in the United States are Millennials. This population demographic includes people born between the years 1977 and 1994.[1. Source: Walmart Filings, US Census Bureau] Since 2013, Walmart (WMT) has increased its market share by 450 basis points among Millennial moms.[2. Source: Walmart Filings, Nielsen]
Speaking on the opportunity in the demographic, Walmart US's chief merchandising officer Steve Bratspies said, "They are the most value-driven generation that we've seen in my lifetime, slightly ahead of Gen X, but they are very, very focused on value which aligns well for Walmart."
Bratspies added, "They also have the strongest affinity for Walmart of any of the generations. 66% of millennials have shopped at a Walmart store in the past month. And they are more likely than the total population to shop Walmart."
Article continues below advertisement
Walmart attributes part of its success among the Millennial demographic to its value-oriented products and prices and its one-stop convenience (XLY). More importantly for Walmart, Millennial customers are headed into their prime spending years and are expected to compensate for an aging and declining baby-boomer shopper population. As a result, big-box retailers such as Walmart, Costco (COST), and Home Depot (HD), among others, are bent on capturing a greater share of the demographic.
The retailer's omni-channel model also offers greater options to Millennials. For example, Walmart now offers an online grocery click-and-collect service in about 22 markets in the United States, and it plans to expand its offering to 20 new markets this year.
Walmart has also been steadily adding to its product availability online, as has home improvement (XHB) (ITB) retailer Home Depot. As explained in Part Two of this series, omni-channel shoppers tend to drive higher spending at Walmart, spending ~$2,500 per year, compared to ~$1,400 spent by brick-and-mortar-only shoppers and ~$200 by online-only shoppers. We'll discuss more about Walmart's e-commerce initiatives and sales drivers in greater detail in Part Five of this series.
Costco has also recently reported seeing higher sign-ups among the Millennial demographic.