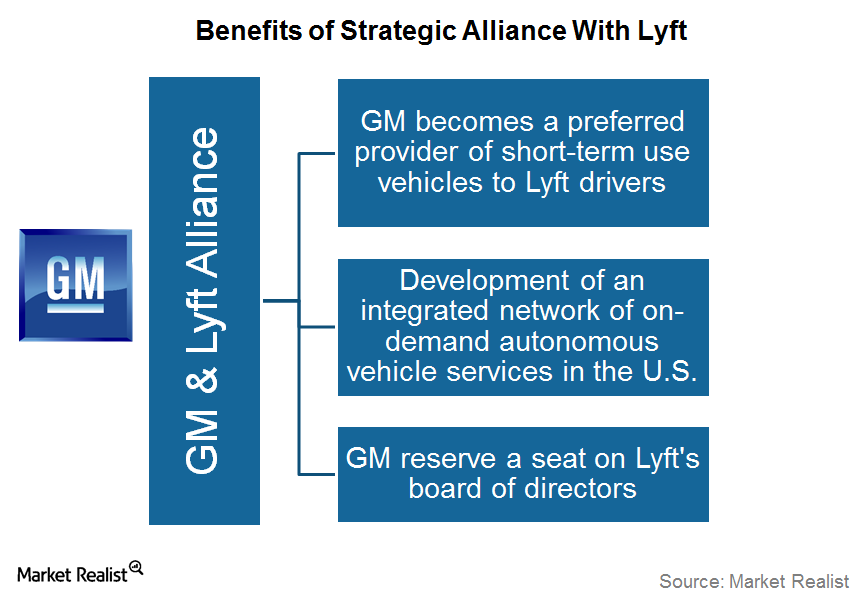 Can General Motors Benefit from Its Strategic Alliance with Lyft?
By Jitendra Parashar

Mar. 22 2016, Updated 9:05 a.m. ET
General Motors and Lyft
Previously, we looked at why entering the car-sharing business could be an important step for General Motors (GM) going forward. Now let's find out how the company and Lyft, its strategic partner, plan to benefit from these services.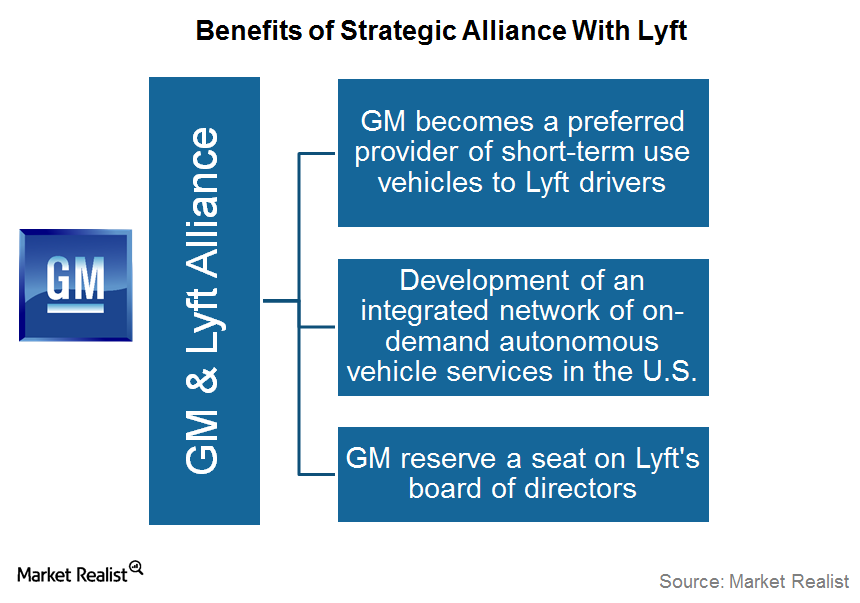 Article continues below advertisement
GM's rental hub
Lyft has been operating its car-sharing services in certain US cities since June 2012. The company has emerged as the closest competitor to Uber, another car-sharing business.
So how does this affect the auto industry? Automakers sell or lease their vehicles to these car-sharing service providers. Sales data are recorded under fleet sales. Typically, an automaker's margins from these fleet sales are lower than its retail sales, but it helps increase market share. After the alliance with Lyft, General Motors will become the preferred provider of short-term use vehicles to Lyft drivers through GM's rental hubs in various US cities.
Developing an autonomous on-demand network
General Motors also plans to develop an on-demand autonomous (driverless) vehicle network with Lyft. This should also help GM with Maven, its personal mobility car-sharing service launched in January 2016. Maven provides residential and peer-to-peer car-sharing services.
Among other mainstream automakers, Ford (F) and Toyota (TM) are also testing their autonomous vehicles. However, GM is one of the early automakers (XLY) to announce its intentions to use autonomous vehicles in its car-sharing business going forward.
Julia Steyn, GM's vice president of Urban Mobility Programs, said, "With more than 25 million customers around the world projected to use some form of shared mobility by 2020, Maven is a key element of our strategy to changing ownership models in the automotive industry."
Use of electric vehicles in car-sharing
General Motors plans to begin producing its much anticipated electric vehicle, the Chevrolet Bolt, by the end of 2016. The company also expects to use this electric vehicle in its car-sharing and ride-sharing business. This shows GM's optimism about the growth and global appeal of car-sharing.
The Chevrolet Bolt will be GM's first mass targeted electric vehicle. Tesla (TSLA) is also about to unveil its first mass targeted electric vehicle, the Model 3, on March 31, 2016. Both vehicles are likely to have similar drive ranges and price categories.
In the next part of this series, we'll look at the Express Drive program that General Motors and Lyft have launched. We'll also see what kind of competition there is in the US car-sharing industry.