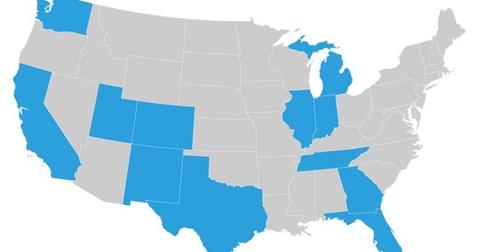 Why Are Cable Companies Investing in Higher Internet Speeds?
By Shirley Pelts

Updated
DOCSIS 3.1 technology
Comcast (CMCSA) is facing increasing competition for high-speed Internet. This competition not only comes from telecom players such as AT&T's (T) U-verse service but also from a new entrant in the market, Alphabet's (GOOG) Google Fiber. AT&T and Verizon Communications' (VZ) respective U-verse and FiOS fiber-based networks overlap 60% of Comcast's high-speed Internet service areas.
This fierce competition has prompted cable companies to upgrade their Internet network to higher speeds. Early this month, Comcast announced that it plans to introduce a gigabit Internet service to residential and business customers using DOCSIS 3.1 technology in Atlanta and Nashville. Comcast plans to extend this service to Chicago, Detroit, and Miami in the second half of 2016.
Comcast stated at its 4Q15 and fiscal 2015 earnings call that the company has not "priced the rollout yet," but it expects to roll out the DOCSIS 3.1 technology "on a widespread basis" in the next couple of years.
Article continues below advertisement
Charter Communications
However, Charter Communications (CHTR), when asked about rolling out the DOCSIS 3.1 technology, stated in its 4Q15 and fiscal 2015 earnings call, "With regard to 3.1, we didn't specifically plan for it in legacy Charter in this fiscal year, but the modems will become available commercially later this year and we think that it's possible that we'll start to deploy those modems in lieu of 3.0 modems."
Charter's management also stated, "We don't have a specific plan to do that yet. But over the next 18 months, this platform is going to become available to the industry, at commercially deployable pricing. And we expect that we will begin the transition in the new Company over that timeframe."
Comcast's Gigabit Pro service
Comcast has also been deploying its high-speed Gigabit Pro service, which offers maximum speeds of 2 Gbps (gigabits per second). The company notes that its Gigabit Pro service is "now available to 18 million homes across Comcast's national footprint."
Comcast makes up 2.9% of the PowerShares QQQ ETF (QQQ). For an investor interested in getting exposure to the television and radio sector, QQQ has 4.9% exposure to the sector. In the next part of this series, we will move on to exploring the world of "skinny" bundles in the media sector.