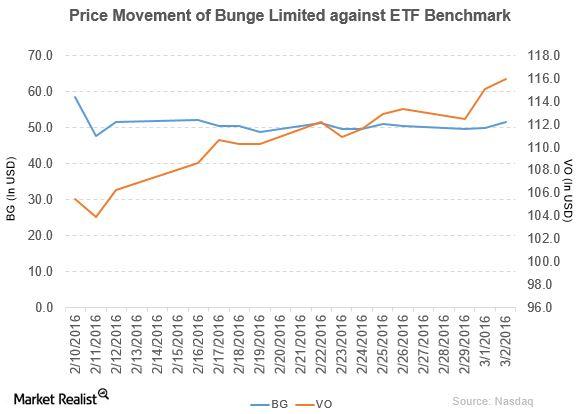 Bunge Will Deliver Cargo of French Wheat to Spain
By Gabriel Kane

Mar. 3 2016, Updated 3:41 p.m. ET
Price movement of Bunge
Bunge (BG) has a market cap of $7.3 billion. BG rose by 3.0% to close at $51.50 per share on March 2, 2016. The stock's weekly, monthly, and YTD (year-to-date) price movements were 3.9%, -15.2%, and -24.0%, respectively, as of the same day.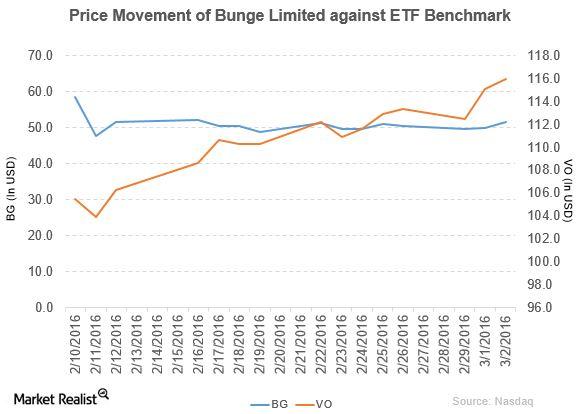 Currently, BG is trading 2.8% below its 20-day moving average, 13.4% below its 50-day moving average, and 29.0% below its 200-day moving average.
The Vanguard Mid-Cap ETF (VO) invests 0.33% of its holdings in Bunge. VO tracks the CRSP US Mid-Cap Index, a diversified index of mid-cap US companies. The YTD price movement of VO was -4.1% as of March 1, 2016.
By comparison, the iShares Russell 3000 ETF (IWV) invests 0.06% of its holdings in Bunge. IWV tracks a cap-weighted index that measures the investable US equities market, covering the entire market-cap spectrum, including micro-caps.
The market caps of Bunge's competitors are as follows:
Article continues below advertisement
Bunge delivers cargo of French wheat
Bunge plans to deliver French wheat that Egypt rejected in December 2015 to Spain, after the agricultural trading house was unable to resolve a dispute with Egypt over the quality of grains.
The company already filed legal proceedings against Egypt's state grain buyer after inspectors rejected the cargo for containing too much of a common fungus known as ergot.
Bunge's performance in 4Q15 and 2015
Bunge reported 4Q15 net sales of $11.1 billion, a fall of 15.9% compared to net sales of about $13.2 billion in 4Q14. Sales of its agribusiness products, edible oil products, milling products, sugar and bioenergy products, and fertilizer products fell by 15.2%, 10.6%, 17.6%, 27.0%, and 16.5%, respectively, in 4Q15 over 4Q14.
Its net income and EPS (earnings per share) rose to ~$188 million and $1.30, respectively, in 4Q15, compared to about -$62 million and -$0.43, respectively, in 4Q14.
Article continues below advertisement
2015 results
In 2015, BG reported net sales of $43.5 billion, a fall of 23.9% YoY (year-over-year). Its net income and EPS rose to $738 million and $5.07, respectively, in 2015, compared to $467 million and $3.17, respectively, in 2014.
Meanwhile, the company's cash and cash equivalents rose by 13.5%, and its inventories fell by 20.1% in 2015. Its current ratio fell to 1.48x, and its debt-to-equity ratio rose to 1.7x in 2015, compared to its current and debt-to-equity ratios of 1.5x and 1.5x, respectively, in 2014.
Bunge's price-to-earnings and price-to-book value ratios were 11.1x and 1.2x, respectively, as of March 2, 2016.
Projections
Bunge has made the following projections for 2016:
In agribusiness, it expects results in oilseeds and grains to be largely driven by its South American operations.
In fertilizer, farmer economic conditions have improved in Argentina, and Bunge expects that the removal of export taxes on grains will result in a rise in sales.
In sugar and bioenergy, Bunge expects earnings and cash flow growth from hedge sugar and Brazilian ethanol.
It expects depreciation, depletion, and amortization of ~$550 million.
It expects capital expenditures of ~$850 million, which include $150 million worth of investments carried over from 2015.
It expects the tax rate to be in the range of 25%–29%.
In the next part and final part of this series, we'll look at Pinnacle Foods.