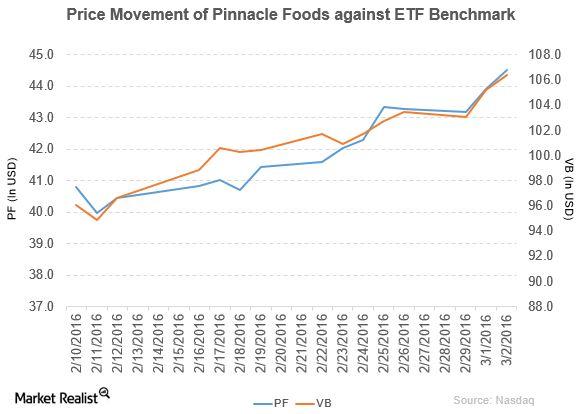 Buckingham Research Upgrades Pinnacle Foods to 'Buy'
Price movement of Pinnacle Foods
Pinnacle Foods (PF) has a market cap of $5.2 billion. PF rose by 1.4% to close at $44.53 per share on March 2, 2016. The stock's weekly, monthly, and YTD (year-to-date) price movements were 5.3%, 4.0%, and 5.5%, respectively, as of that day.
Currently, PF is trading 7.0% above its 20-day moving average, 6.2% above its 50-day moving average, and 3.8% above its 200-day moving average.
The Vanguard Small-Cap ETF (VB) invests 0.15% of its holdings in Pinnacle Foods. VB tracks the CRSP US Small-Cap Index. The market-cap-weighted index includes the bottom 2%–15% of the investable universe. The YTD price movement of VB was -4.9% as of March 1, 2016.
The market caps of Pinnacle Foods' competitors are as follows:
Article continues below advertisement
Buckingham Research upgraded Pinnacle Foods
Buckingham Research has upgraded Pinnacle Foods rating from "neutral" to "buy" due to a rise in performance in fiscal 4Q15.
Pinnacle Foods reported 4Q15 net sales of $722.5 million, a rise of 2.4% compared to $705.3 million in 4Q14. Sales from the Birds Eye frozen and specialty foods segments rose by 8.3% and 0.36%, respectively, and sales from the Duncan Hines grocery segment fell by 3.1% in 4Q15 over 4Q14.
The company's net income and EPS (earnings per share) rose to $79.2 million and $0.67, respectively, in 4Q15, compared to $36.1 million and $0.31, respectively, in 4Q14. It reported adjusted EBITDA (earnings before interest, tax, depreciation, and amortization) of $170.9 million in 4Q15, a rise of 49.5% over 4Q14.
Article continues below advertisement
2015 results
In 2015, PF reported net sales of $2.7 billion, a rise of 2.5% YoY (year-over-year). Its net income and EPS fell to $212.5 million and $1.81, respectively, in 2015, compared to $248.4 million and $2.13, respectively, in 2014.
Meanwhile, the company's accounts receivables and inventories rose by 15.1% and 13.1%, respectively, in 2015. It reported cash and cash equivalents of $180.5 million in 2015, compared to $38.5 million in 2014. Its current ratio rose to 2.1x and debt-to-equity ratio fell to 1.96x, in 2015, compared to a current ratio and a debt-to-equity ratio of 1.9x and 2.03x, respectively, in 2014.
The price-to-earnings and price-to-book value ratios of Pinnacle Foods are 30.7x and 2.9x, respectively, as of March 2, 2016.
Projection
The company has made the following projections for 2016:
adjusted diluted EPS in the range of $2.08–$2.13
input cost inflation in the range of 2%–3%, including Boulder brands
productivity in the range of 3.5%–4.0% of the cost of products sold, including Boulder Brands organic cost savings, but excluding acquisition synergies
interest expense of ~$140 million, including Boulder Brands
an effective tax rate comparable to or slightly above 36.6%
capital expenditure in the range of $135 million–$145 million
Keep checking in with Market Realist's Consumer Discretionary page for ongoing analysis.