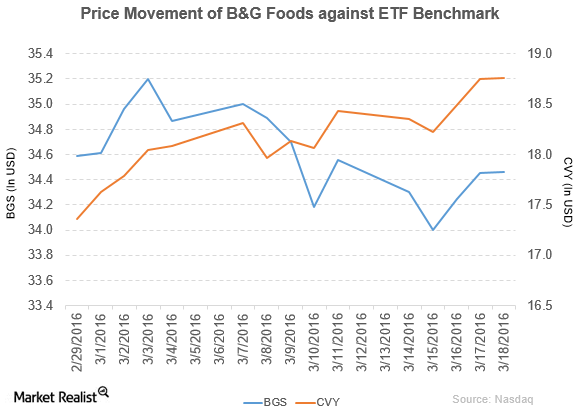 What Is B&G Foods' New Earnings Guidance?
By Gabriel Kane

Mar. 21 2016, Published 6:59 p.m. ET
Price movement of B&G Foods
B&G Foods (BGS) fell by 0.29% to close at $34.46 per share at the end of the third week of March 2016. The stock's price movements on a weekly, monthly, and year-to-date (or YTD) basis are -0.29%, -6.4%, and -1.6%, respectively.
Currently, BGS is trading 3.5% below its 20-day moving average, 3.0% below its 50-day moving average, and 3.0% above its 200-day moving average.
The Guggenheim Multi-Asset Income ETF (CVY) invests 0.35% of its holdings in B&G Foods. The ETF tracks the Zacks Multi-Asset Income Index. The index aims to outperform the Dow Jones US Select Dividend Index using US stocks, American depositary receipts, REITs, MLPs, closed-end funds, preferred stocks, and royalty trusts. The YTD price movement of CVY was 1.7% as of March 17, 2016.
The market capitalizations of BGS's competitors are as follows:
Article continues below advertisement
B&G Foods completed its public offering
As per the company's filing, "B&G Foods closed its public offering of 4,600,000 shares of its common stock, which includes 600,000 shares issued pursuant to the underwriter's over-allotment option, at a public offering price of $33.55 per share."
Net proceeds of B&G Foods are ~$152.0 million after deducting underwriting discounts and commissions and other estimated offering expenses. These proceeds will be used to repay outstanding borrowing costs under the company's revolving credit facility and for general corporate purposes, including the repayment of other long-term debt and possible acquisitions.
After the close of its public offering, BGS revised its adjusted EPS (earnings per share) from a range of $1.98–$2.09 to a range of $1.90–$2.00.
There's been no change to the below guidances for 2016:
net sales guidance in the range of $1.38 billion–$1.42 billion
adjusted EBITDA (earnings before interest, tax, depreciation, and amortization) in the range of $294.0 million–$304.0 million
Performance of B&G Foods in 4Q15 and 2015
B&G Foods reported 4Q15 net sales of $342.3 million, a rise of 43.8% compared to net sales of $238.0 million in 4Q14. The company's cost of goods sold as a percentage of net sales fell by 2.6%, and its operating income rose by 61.1% in 4Q15 compared to 4Q14.
Its net income and EPS fell to $11.0 million and $0.19, respectively, in 4Q15, compared to $11.5 million and $0.21, respectively, in 4Q14.
2015 results
In 2015, BGS reported net sales of $966.4 million, a rise of 14.0% YoY (year-over-year). Its net income and EPS rose to $69.1 million and $1.22, respectively, in 2015, compared to $41.0 million and $0.76, respectively, in 2014. It reported adjusted EBITDA of $217.8 million in 2015, a rise of 12.2% compared to 2014.
BGS reported cash and cash equivalents and inventories of $5.2 million and $312.9 million, respectively, in 2015, compared to $1.5 million and $106.6 million, respectively, in 2014. Its current ratio and debt-to-equity ratio rose to 3.4x and 4.6x, respectively, in 2015, compared to 2.1x and 3.9x, respectively, in 2014.
The price-to-earnings and price-to-book value ratios of B&G Foods are 28.3x and 4.4x, respectively, as of March 18, 2016.