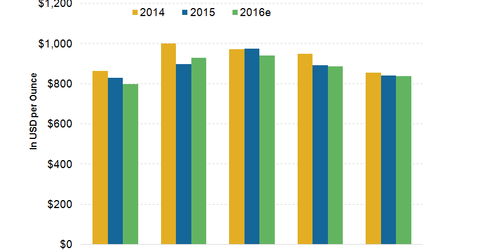 Barrick Among Lowest on Gold Industry Cost Curve: Should We Care?
By Anuradha Garg

Updated
All-in sustaining costs
AISC (all-in sustaining costs) are quite an encompassing measure that you can compare across miners. This is a very important metric for investors to watch. It shows the company's margin cushion at prevailing gold prices (GLD) (IAU).
To learn more about AISC, you can read the Market Realist series Everything you need to know about gold and gold companies.
Article continues below advertisement
Lowest AISC
Barrick Gold (ABX) performed strongly on the cost side. Its AISC was down 21% YoY (year-over-year) to $733 per ounce in 4Q15. This is the lowest metric among the senior gold mining peers. The company also achieved the lower end of its guided AISC of $830–$870 per ounce for 2015. While its mid-point guidance for 2016 is $800 per ounce, the company aspires to achieve AISC costs below $700 per ounce by 2019.
Cost-cutting
Goldcorp (GG) also reduced its AISC of $977 per ounce by 6% YoY in 4Q15. Excluding the impact of reductions to carrying values of inventory, AISC in 4Q15 was $867 per ounce. Goldcorp's guidance for AISC has been $850–$925 per ounce in each year of the three-year period from 2016 to 2018. The mid-point of this guidance, $887.50 per ounce, is 0.7% lower than the AISC for 2015. This improved guidance is despite lower production guidance.
Article continues below advertisement
Yamana Gold's (AUY) costs also improved by 8% YoY in 4Q15 to $753 per ounce. Investors should also note that the company's currency hedges rolled off in late 2015. This should allow the company to enjoy greater currency benefits compared to its peers, particularly for the Brazilian real and Argentinean peso. The company is guiding for AISC of $840 per ounce for 2016, almost flat compared to 2015.
Kinross Gold's (KGC) AISC declined slightly by 1.5% YoY in 4Q15 to $991 per ounce. The continuing cost improvement expectations also led management to aim for AISC costs of $890–$990 per ounce for 2016. Management has given 20% lower overhead guidance YoY of $165 million in 2016 due to the decline in manpower costs as well as a lower Canadian dollar.
Newmont Mining's (NEM) AISC, on the other hand, was 8% higher YoY for 4Q15 at $999 per ounce. The increase was mainly due to lower volumes and the timing of sustaining capital expenditure. It has maintained its cost reduction outlook for AISC for 2016 and beyond. For 2016, AISC is expected to be higher at $930 per ounce, the mid-point guidance, compared to $898 for 2015. The increase is because management expects costs to be higher at Yanacocha and Ahafo.
Among the senior gold miners, Barrick has shown significant cost improvement. Yamana Gold can surprise on the upside with costs as its currency hedges roll off.
In the next part of this series, we'll look at Barrick's and Newmont's high financial leverages and see whether or not they matter.