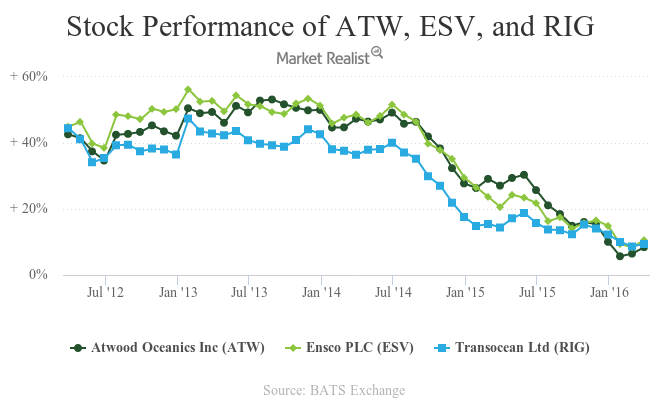 Why Barclays Downgraded ATW and ESV
Downgrades
Article continues below advertisement
Downgrade details
Atwood Oceanics was downgraded by Barclays from "equal weight" to an "underweight." The target price was also reduced from $7 to $6. The revised price target points to a potential downside of 31% from its March 28 closing price of $8.71.
Ensco was also downgraded to "underweight" and now has a price target of $7. The target price is 35% below its closing price of $10.72 on March 28.
Transocean's price target was reduced from $6 to $5. The revised price target suggests a potential downside of 46% from its stock price of $9.29 on March 28.
Barclays' views
Barclays analyst David Anderson doesn't expect the offshore drilling market to recover until early 2018. He had previously estimated a recovery in early 2017. He also believes that even if oil prices increase to $50 per barrel by the end of the year, large oil companies will concentrate on improving their balance sheet and will avoid taking new offshore projects. According to his estimates, only 25% of rigs will be re-contracted over the next 18 months.
Stock price reaction
The downgrades didn't bring much negative sentiment, as these downgrades were not a big surprise to investors. On March 28, 2016, Atwood Oceanics rose by 3% and Ensco (ESV) by 1%. The returns for other offshore drillers (IYE) on the same day were as follows:
In the next article, we'll look at Wall Street analysts' consensus view on these companies.