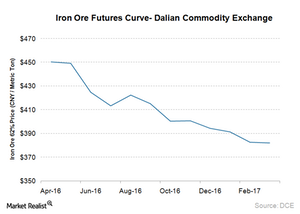 What Does Backwardation in Iron Ore Futures Mean?
By Anuradha Garg

Mar. 30 2016, Updated 2:05 a.m. ET
Importance of iron ore futures
A commodity futures contract is an agreement to buy or sell a particular amount of a commodity at a fixed price on a certain date or before it. Futures contracts depict market sentiment and expectations regarding future demand, supply, and price for a particular commodity. These contracts reflect current market conditions in future prices.
Article continues below advertisement
Backwardation in iron ore futures
Backwardation is an unusual situation wherein the spot prices are higher than the futures prices. In such a scenario, end users can lock in futures prices well below the spot prices. The current scenario also points to the fact that the market is bearish on the future fundamentals of iron ore. So, even while the spot prices had rallied at the beginning of March, the futures market remained in backwardation. This means that the price rally did not reflect any significant improvement in the fundamentals. The spread between spot prices and three-month futures prices is close to 9%.
The backwardation mainly suggests that the market participants expect the iron ore prices to go down due to fundamental factors of weaker demand and oversupply.
Backwardation and iron ore companies
The losses in futures could prolong iron ore's retreat. Backwardation in the iron ore futures curve indicates negative market sentiment about future prices. The fall in futures prices is negative for companies such as Rio Tinto (RIO), BHP Billiton (BHP), Vale (VALE), and Cliffs Natural Resources (CLF). It's also a negative for funds that invest in iron ore companies such as the SPDR S&P Metals and Mining ETF (XME). CLF forms 3.5% of XME's holdings.
After having looked at the futures prices for iron ore, let's explore the analysts' view on iron ore prices.