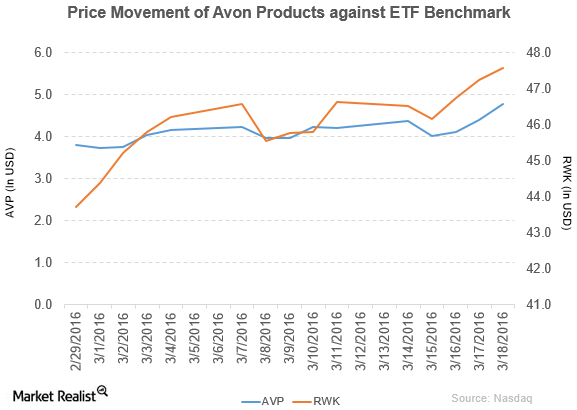 Why Is Avon Moving Its Head Office to the UK?
By Gabriel Kane

Mar. 21 2016, Published 6:58 p.m. ET
Price movement of Avon Products
Avon Products (AVP) rose by 14.1% to close at $4.79 per share at the end of the third week of March 2016. The stock's price movements on a weekly, monthly, and year-to-date (or YTD) basis are 14.1%, 24.1%, and 18.3%, respectively.
Currently, AVP is trading 21.0% above its 20-day moving average, 42.1% above its 50-day moving average, and 11.9% above its 200-day moving average.
The Oppenheimer Mid-Cap Revenue ETF (RWK) invests 0.75% of its holdings in Avon. The ETF tracks a revenue-weighted index of the S&P Mid Cap 400 Index. The YTD price movement of RWK was 3.2% as of March 17, 2016.
The iShares Morningstar Small Value ETF (JKL) invests 0.39% of its holdings in Avon. The ETF tracks a market-cap–weighted index of US small-cap value stocks. The index selects stocks from the 90th to 97th percentiles of the market-cap spectrum using fundamental factors.
The market capitalizations of Avon's competitors are as follows:
Article continues below advertisement
Avon's transformation plans for the next three years
Avon Products has made changes to its operating model, including the following:
Avon's commercial business will ensure that all markets have consistent roles, responsibilities, and processes. This will lead to cost efficiencies and improved effectiveness.
Avon will reduce corporate infrastructure and transition its corporate headquarters to the United Kingdom.
These changes will reduce jobs by ~2,500 across multiple geographies.
On the financial side, the company expects to record total charges associated with these actions of ~$60 million before taxes in 1Q16. These charges are associated with employee-related costs. Avon expects to realize pretax savings of ~$30 million in 2016 associated with the reduction of ~1,700 jobs. It also expects to achieve annualized pretax savings of ~$65 million–$70 million starting in 2017.
Avon expects annualized pretax savings of ~$20 million in 2016 related to the elimination of the open positions.
Performance of Avon Products in 4Q15 and 2015
Avon Products reported 4Q15 net sales of $1,607.3 million, a fall of 20.2% compared to net sales of $2,014.1 million in 4Q14. Sales of its beauty and fashion and its home categories fell by 20.9% and 14.4%, respectively, in 4Q15 compared to 4Q14.
Its net income and EPS (earnings per share) fell to -$333.4 million and -$0.76, respectively, in 4Q15, compared to -$330.7 million and -$0.75, respectively, in 4Q14.
2015 results
In 2015, AVP reported total revenues of $6,160.5 million, a fall of 19.4% YoY (year-over-year). It reported an operating profit of $165.0 million in 2015 compared to $434.3 million in 2014.
Its net income and EPS fell to -$1,148.9 million and -$2.60, respectively, in 2015, compared to -$388.6 million and -$0.88, respectively, in 2014.
Meanwhile, its cash and cash equivalents and inventories fell by 26.6% and 11.8%, respectively, in 2015. Its current ratio fell to 1.1x in 2015 compared to 1.4x in 2014.