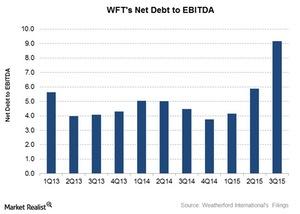 Weatherford's Steadily Increasing Debt: Does It Matter?
By Alex Chamberlin

Updated
Weatherford International's net debt to EBITDA
Weatherford International's (WFT) net debt to TTM (trailing 12-month) EBITDA (earnings before interest, tax, depreciation, and amortization) rose from fiscal 4Q14 to fiscal 3Q15. In fiscal 4Q15, its net debt-to-EBITDA multiple wasn't meaningful because its EBITDA was negative.
Net debt-to-EBITDA reflects how easily a company can repay its debts from its operational earnings and available cash. Weatherford International's peer Halliburton (HAL) had net debt at the end of fiscal 4Q15 of $5.3 billion compared to WFT's $7.0 billion. WFT makes up 0.43% of the iShares US Energy (IYE). For investors looking for exposure to the oilfield services (or OFS) industry, OFS makes up 15.2% of IYE.
Article continues below advertisement
Weatherford International's indebtedness
WFT's net debt-to-TTM-EBITDA ratio decreased from fiscal 1Q13 to fiscal 4Q14. During this period, WFT's total debt decreased 16%, while its cash and marketable securities increased 65%. This led to lower net debt. TTM EBITDA increased during the same period. In effect, its net debt-to-EBITDA multiple decreased over this period.
Since then, the multiple has increased steadily. Total debt increased marginally. Although cash and marketable securities increased 9.5% from fiscal 4Q14 until fiscal 3Q15, it couldn't offset the total debt increase. In effect, net debt increased.
WFT's TTM EBITDA decreased 58% during the same period. Net debt-to-EBITDA ratio rose to ~9.2x, significantly higher than 3.7x by the end of fiscal 4Q14. From fiscal 3Q15 to fiscal 4Q15, WFT's net debt decreased 2.7%, while its TTM EBITDA turned negative.
Next, we'll look at Weatherford International's free cash flows.