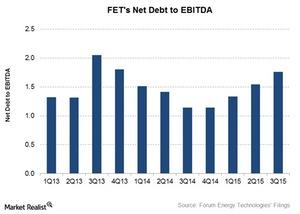 What Can We Assume from Forum Energy Technologies' Indebtedness?
By Alex Chamberlin

Mar. 7 2016, Updated 10:07 a.m. ET
Forum Energy Technologies' net debt-to-EBITDA
Forum Energy Technologies' (FET) net debt-to-EBITDA (earnings before interest, tax, depreciation, and amortization) for TTM (trailing 12 months) trended up from fiscal 3Q14 to fiscal 3Q15. In fiscal 4Q15, Forum Energy Technologies' TTM EBITDA was negative. So its net debt-to-EBITDA wasn't meaningful.
Net debt-to-EBITDA reflects how easily a company can repay its debts from its operational earnings and available cash. One of Forum Energy's peers, Drill-Quips (DRQ), had net debt of -$381 million at the end of fiscal 4Q15, compared to FET's $287 million. Drill-Quip has zero long-term debt. It has a positive cash balance, which leads to a negative net debt. FET makes up 0.05% of the Vanguard Energy ETF (VDE).
Article continues below advertisement
Forum Energy Technologies' indebtedness
FET's net debt-to-TTM-EBITDA ratio decreased gradually from fiscal 3Q13 to fiscal 3Q14. During this period, FET's total debt decreased 21%, while its cash and marketable securities more than doubled. TTM EBITDA increased 24%. This led to a lower net debt-to-EBITDA multiple over this period.
Since then, the multiple has increased steadily. In fiscal 3Q15, total debt decreased marginally over fiscal 3Q14. Cash and marketable securities also remained steady during the same period, leading to 6% lower net debt. However, FET's TTM EBITDA decreased 39% during the same period. In effect, net debt-to-EBITDA ratio went significantly higher.
Next, we'll discuss Forum Energy Technologies' free cash flows.