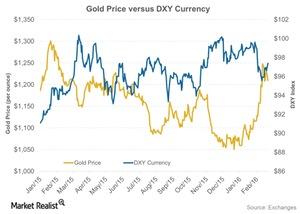 Analyzing the European Conundrum over Gold
By Meera Shawn

Updated
Gold and interest rates
Japan and European nations are falling into a negative rate territory. Investors should watch the direction of gold prices closely. As we know, gold is negatively related to interest rates. Lower rates can impact gold in the near future.
When investors are offered a higher interest rate, gold is shadowed. Investors shun the non-interest bearing asset. However, amid the falling yield, it's easier to park money in the non-yield bearers like gold and silver instead of paying a yield.
Article continues below advertisement
Gold and the US dollar
As interest rates fall, gold could shine brightly. These falling rates can also mean lower rates in Europe. This strengthens the US dollar. Gold and other precious metals are all dollar-denominated assets. A higher dollar poses a threat for gold.
Although the relation isn't very clean and definite, a longer-term negative relationship is observed among gold and the US dollar. As the dollar, or DXY Currency Index, lost about 1.5% on a YTD (year-to-date) basis, gold and silver rose 18.3% and 11.6% respectively during the same time frame. The following chart shows the comparative performance of gold and the US dollar over the past year.
Mining investments
It's important to understand which factors will impact gold more—the negative interest rates or the comparative strength of the US dollar.
The price changes in gold will also impact the relative performance of gold-based assets like the VanEck Vectors Junior Gold Miners ETF (GDXJ) and the Sprott Gold Miners ETF (SGDM). These two indicators gained a fortune following the gains in gold and the weakness in the US dollar. The indicators rose 37.9% and 37.6%, respectively, on a YTD basis.
The miners that saw considerable positive returns include Barrick Gold (ABX), IamGold (IAG), and Sibanye Gold (SBGL).