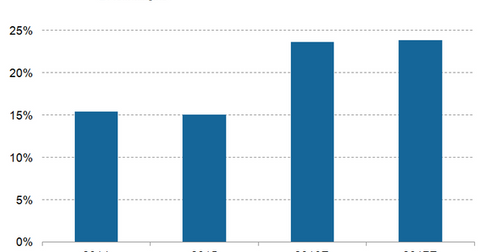 Why Analysts Expect Mylan's Net Profit Margins to Rise in 2016
By Margaret Patrick

Mar. 31 2016, Updated 2:06 p.m. ET
Mylan's net profit margins
Mylan (MYL) expects improved net profit margins in 2016, mainly due to the operational synergies projected as a result of its acquisition of Meda AB. The company also expects to leverage Meda's infrastructure and workforce to effectively diversify across product lines and geographies.
Wall Street analysts have projected a rise in Mylan's net profit margins from 15.1% in 2015 to 23.7% in 2016. If these projections prove correct, there will be a significantly positive impact on Mylan's shares. There will also be a positive impact on the share price of the Vanguard Growth ETF (VUG). Mylan makes up about 0.21% of VUG's total holdings.
In 2016, analysts expect peers Teva Pharmaceuticals (TEVA), Perrigo (PRGO), and Pfizer (PFE) to earn net profit margins of about 24.3%, 22.5%, and 27.6%, respectively.
Article continues below advertisement
Revenue projections
Mylan has projected that it will earn revenues in the range of $10.5 billion–$11.5 billion in 2016, year-over-year (or YoY) growth of about 16%. The company also expects YoY growth of around 16% in its adjusted diluted earnings per share (or EPS), which may fall in the range of $4.85–$5.15 in 2016.
High-margin business
Mylan's Acquisition of Meda will add $1 billion worth of over-the-counter (or OTC) business to its portfolio. Meda's OTC drugs are well established in the marketplace and command higher margins, as they belong to the branded OTC category. Additionally, Mylan believes that it can leverage Meda's capabilities to further penetrate the OTC market through marketing efforts and line expansions.
Geographic expansion
Mylan also expects to benefit from diversifying its products across multiple geographies, especially in Europe and emerging markets. Meda operates in the majority of international markets through a direct sales workforce, and it has a strong brand presence in these markets.
Mylan plans to leverage Meda's international presence to strengthen the global position of the combined entity in areas such as infectious diseases, women's health, insulins, and biologics.