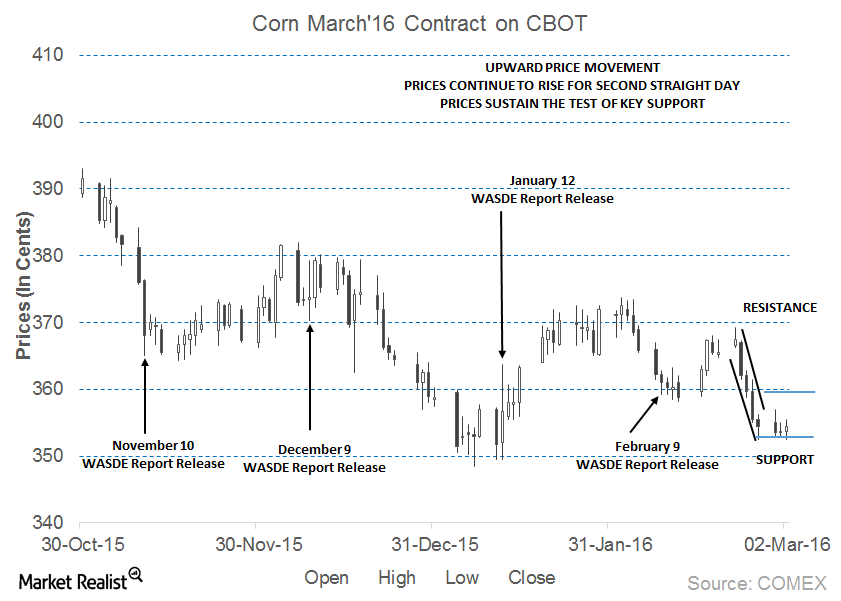 What Are Analyst Expectations for Corn Prices?
Trend for corn prices
Corn prices for March 2016 expiry traded near the crucial support of 355 cents per bushel on March 2, 2016. Prices continue to trade in the range-bound channel despite the support above 350 cents. Volumes declined by 79.1% and open interest declined by 30.4% on March 2, 2016. The second consecutive rise after the sharp downward movement supported producers. However, a record level of short positions in corn futures continues to threaten an upcoming fall. Prices continued to trade below the 20-day, 50-day, and 100-day moving averages on March 2.
The chart above indicates that prices might oscillate in the bracket of 353 and 360 cents per bushel in the near term.
Article continues below advertisement
Price drivers
The US Energy Information Administration (or EIA) reported a drop in weekly ethanol plant production and weekly US ending stocks of fuel ethanol. The report supported the corn demand cues due to increasing inventory requirements for ethanol production. South African grains producer Grains SA reported stronger-than-anticipated demand for the region, which supported US corn export sentiment on March 2, 2016. The US dollar depreciated by 0.25% on March 2 and supported the corn export sentiment on the day.
Stock review
The rise in corn prices supports companies in the corn trading and producing business. Share prices of Ingredion (INGR), ConAgra Foods (CAG), and Tyson Foods (TSN) rose by 2.1%, 0.59%, and 0.3%, respectively, on March 2. On the other hand, CHS (CHSCP) fell slightly by 0.26% on March 2, losing the previous day's gain of 1.5%. The PowerShares DB Agriculture Fund (DBA) rose by 0.30% on March 2, recovering the previous day's drop.