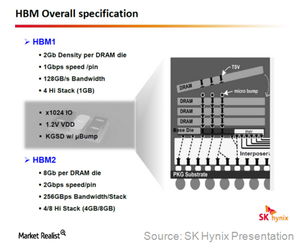 Why AMD's Competition Is Rising in High Bandwidth Memory
By Puja Tayal

Updated
AMD's revolutionary technologies
We've already discussed how Advanced Micro Devices (AMD) has been addressing its latest challenges by investing in a complete suite of competitive products and FinFET (fin-shaped field effect transistor) process technology. The company is also ready to launch more revolutionized technologies in 2016, including Polaris GPU (graphics processing unit), "Zen" core architecture, and HBM2 (high bandwidth memory).
The company plans to leverage all of these technologies to grow in the next big market of virtual and augmented reality. Let's look at each of these three key technologies in detail, starting with HBM2.
Article continues below advertisement
High bandwidth memory 2
After seven years of research, AMD has developed the industry's first HBM GPU (graphic processing units) in collaboration with South Korea's (EWY) SK Hynix. In an HBM, four 3D DRAM (dynamic random access memory) die stacks are placed on the silicon interposer alongside GPU. Radeon Fury X GPUs were powered by HBM, which gave AMD an edge over NVIDIA (NVDA).
Now both companies are set to launch HBM2 in their upcoming GPUs—AMD with Polaris and NVIDIA with Pascal. AMD confirmed that it will use HBM 2 for high-end Polaris models and GDDR5 (graphics double data rate synchronous DRAM) for low-end Polaris models. While Polaris will be built on Samsung's (SSNLF) 14nm node, Pascal will be built on TSMC's (TSM) 16nm node.
The new family of GPUs
AMD signed an advantage deal with SK Hynix that gives it a priority to HBM2 capacity, which will have a limited supply in the initial stages. AMD is developing a whole new family of GPUs, code-named Greenland, featuring HBM2 technology. The first product of this family Vega GPU is expected to be launched in 2017.
Continue to the next part for a detailed comparison of Polaris and Pascal.