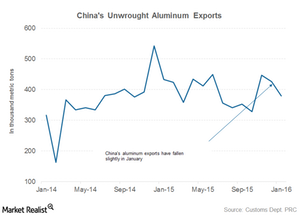 Aluminum Supply: Chronic Overcapacity Is Here to Stay
By Mohit Oberoi, CFA

Mar. 15 2016, Updated 2:04 p.m. ET
Aluminum supply
Like steel, aluminum also has a problem with overcapacity and overproduction. However, unlike steel, where there's overcapacity almost everywhere, aluminum overcapacity is mainly concentrated in China. Except for China, global aluminum markets have been in a deficit. This is mainly due to capacity curtailments that producers outside China have undertaken over the last few years. However, capacity curtailments by aluminum producers outside China didn't have the desired effect. Chinese exports rose steeply over the last few years. In 2015, China exported 4.8 million metric tons of unwrought aluminum. This brought the monthly average to ~400,000 metric tons. Last year, Chinese aluminum exports rose 10%. This put pressure on aluminum prices.
Article continues below advertisement
Fake semis?
Interestingly, Chinese aluminum exports haven't faced much opposition from developed countries despite most aluminum companies labeling more Chinese exports as the main cause of their woes. The only opposition that China has been facing in aluminum exports has been what producers like Alcoa (AA) and Century Aluminum (CENX) claim are the exports of "fake semis" to take advantage of China's tax laws.
While the export of primary aluminum attracts stiff duties, China encourages exports of value-add aluminum products. Exporting primary aluminum amounts to exporting energy—something that China doesn't have in abundance. Many aluminum producers claim that Chinese companies have been exporting primary aluminum with very little value add to take advantage of tax exemptions on exports of value-add aluminum products.
Article continues below advertisement
Exports fell in January
However, Chinese aluminum exports fell slightly in January. You can see this in the above graph. Having said that, with aluminum prices back near $1,600, we might see a letup in Chinese exports. Although some of the Chinese capacity seems to have been curtailed, it might come back online if aluminum prices continue to rise.
In the next part, we'll discuss how aluminum prices could play out this year given the demand-supply situation.
Investors looking to diversify the risk of investing in a single security can also consider the SPDR S&P Global Natural Resources ETF (GNR). Almost a quarter of GNR's holdings are invested in steel and other metal companies. Together, BHP Billiton (BHP) and Norsk Hydro (NHYDY) account for ~5% of GNR's portfolio.