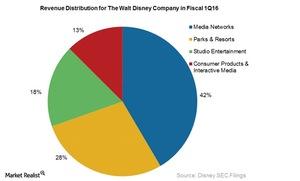 Affiliate Fees and Content Licensing Revenues for the Media Sector
By Shirley Pelts

Updated
Affiliate fees
Media companies primarily derive their revenues mainly from affiliate fees and advertising. Affiliate fees are the carriage fees paid per month per subscriber by MVPDs (multichannel video programming distributors) like Comcast (CMCSA) and Dish Network (DISH).
In fiscal 4Q15 and 2015, CBS's (CBS) affiliate and subscription fees increased by 13% and 15%, respectively. For 21st Century Fox (FOXA), the company's Cable Network Programming segment had a 10% growth in domestic affiliate revenues in fiscal 2Q16. However, international affiliate revenues declined by 1% in fiscal 2Q16 due to the adverse impact of the rising dollar.
Article continues below advertisement
For the second half of fiscal 2016, 21st Century Fox stated at the 2015 UBS Conference (UBS) that its affiliate fees rates are currently locked in according to its contracts with cable companies. It expected an overall decline in pay-TV subscribers to be 1.5%–2% and didn't expect that number to change anytime soon.
The Walt Disney Company's (DIS) Media Networks segment had revenues of $6.3 billion in 1Q16, a growth of 8% year-over-year that was driven by higher affiliate fees and advertising revenues. As the chart above indicates, Disney's Media Networks segment comprised 42% of the company's total revenues of $15.2 billion in fiscal 1Q16.
Content licensing revenues
CBS's revenues in fiscal 4Q15 were driven by a 16% growth in content licensing and distribution revenues. This increase was primarily fueled by a surge in demand for the company's television content in international markets. CBS continues to expect growing international demand for its content. However, licensing content internationally has also meant that media companies like 21st Century Fox have had to bear the impact of the rising dollar on its content licensing revenues.
Some companies like Time Warner (TWX) are also rethinking their content licensing strategy. The company stated during its 3Q15 earnings call that it was considering whether to retain content rights for a longer duration and either forgo or delay content licensing. As viewers increasingly move to the digital platform, the company needs to provide more content for its video-on-demand offerings such as HBO Now.
CBS makes up 0.25% of the Vanguard Growth ETF (VUG). VUG has 29.6% exposure to the IT sector. In the final part of this series, let's take a look at the valuation metrics for the media sector.