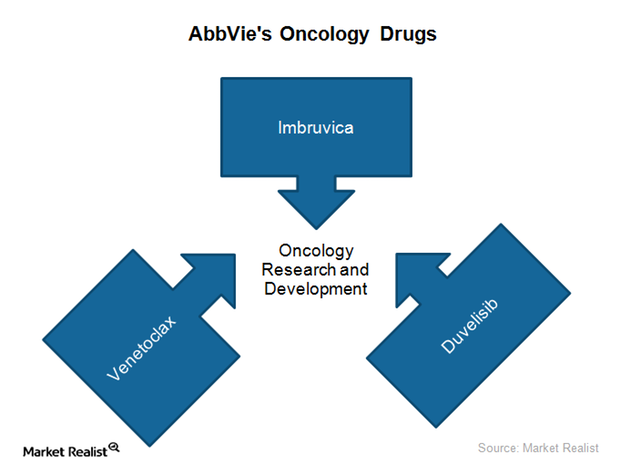 AbbVie Strengthens Its Position in Hematologic Oncology Segment
By Margaret Patrick

Mar. 9 2016, Updated 8:06 a.m. ET
Hematologic Oncology segment
AbbVie (ABBV) has invested substantially in developing innovative treatments in the oncology space such as Imbruvica, Venetoclax, and Duvelisib. In addition to chronic lymphocytic leukemia (or CLL) and mantle cell lymphoma (or MCL), Imbruvica is currently being evaluated for use with other types of cancers such as multiple myeloma, marginal zone lymphoma, follicular lymphoma, diffuse large B-cell lymphoma, pancreatic cancer, and graft versus host disease.
Article continues below advertisement
Imbruvica research
Strong data from the RESONATE-2 trial, as well as the strong possibility of receiving approval from the FDA for Imbruvica as a first-line therapy for CLL patients, has been a key growth driver for AbbVie's valuations. AbbVie also expects to submit several regulatory applications to the FDA in 2016.
The applications involve the approval of Imbruvica as a therapy for patients with treatment-naïve MCL, treatment naïve diffuse large B-cell lymphoma, and relapsed/refractory follicular lymphoma, in 2016. The company continues to explore Imbruvica in combination with other drugs as a therapy in the immune-oncology space.
Imbruvica is expected to pose strong competition to existing oncology drugs such as Celgene's (CELG) Revlimid and Amgen's (AMGN) Kyprolis, as well as new drugs like Astrazeneca's (AZN) acalabrutinib (or ACP-196), which was obtained through a deal with Acerta Pharma.
Venetoclax research
Venetoclax, a BCL-2 inhibitor drug, is currently being evaluated by AbbVie in partnership with Roche Holdings as a therapy for multiple cancers, including CLL and acute myeloid leukemia (or AML). The drug has also received three breakthrough therapy designations from the FDA, as the drug has demonstrated that it may be better than existing therapies in curing certain types of cancers.
Data from clinical trials has highlighted Venetoclax's efficacy in treating relapsed/refractory CLL patients, both as a single treatment or in combination with Rituxan. The drug has also displayed a positive impact on relapsed/refractory CLL patients with 17p deletion mutation.
Article continues below advertisement
In the 57th American Society of Hematology Annual Meeting conducted in December 2015, AbbVie presented outcomes data obtained from clinical trials evaluating Venetoclax in combination with Rituxan in relapsed/refractory CLL patients. The therapy witnessed an 86% overall response rate and a 47% complete response rate. According to the Multiple Myeloma Research Foundation, the overall response rate is described as "typically the percentage of patients who respond to a specific therapy in a clinical trial with a partial response or better."
Duvelisib research
AbbVie is also developing Duvelisib, a dual PI-3-kinase inhibitor, in partnership with Infinity Pharmaceuticals. Currently being explored as a therapy for CLL and relapsed/refractory non-Hodgkin's lymphoma, the company expects positive data in the second half of 2016.
If successful, the three oncology drugs can add substantially to AbbVie's revenues and profit margins. This could also help boost share prices of the SPDR S&P Dividend ETF (SDY). AbbVie accounts for 1.2% of SDY's total portfolio holdings.