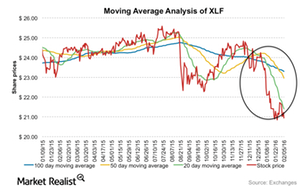 XLF Traded in Bear Country All Last Week
Series overview
Since the beginning of 2016, stocks in the financial space have been beaten down by worries of slowing economic growth, plunging commodity prices, and low interest rate outlook. Which ETFs best show this current beatdown? What does this trend indicate?
This series analyzes recent investor sentiment toward the various sub-groups in the financial sector in the US—namely, insurance, regional banks, capital markets, and banks—in an effort to understand whether a recession is indeed striking again. We'll study these factors using technical indicators such as moving averages, relative strength index numbers, and fund flows.
Let's start with the Financial Select Sector SPDR ETF (XLF).
Article continues below advertisement
Overview of XLF
The Financial Select Sector SPDR ETF (XLF) attracts the most attention among financial ETFs in the US, primarily because 87% of the fund is composed of large-cap stocks. XLF well represents the entire financial sector because it invests in banks, insurance, asset management companies, and REITs (real estate investment trusts). And with a market capitalization of $15.9 billion as of February 5, XLF is the largest financial ETF.
XLF is also the most liquid financial ETF, with $ 6.6 billion worth of shares trading on any given day. The largest holdings of XLF include Wells Fargo & Company (WFC), Bank of New York Mellon (BK), J.P. Morgan Chase & Company (JPM), and Bank of America (BAC)
Moving Averages
On February 5, 2016, the Financial Select Sector SPDR ETF (XLF) closed at $20.95. This was 11%, 10%, and 2% below its 100-day, 50-day, and 20-day moving averages, respectively.
But moving averages can be analyzed in two ways. The first is a price crossover. This occurs when the stock price crossed a moving average, signaling a potential change in trend. The second method uses moving averages of two or more lengths. When a shorter timeframe moving average crosses over a longer moving average, it's seen as a "buy" signal, and vice versa.
In the chart above, we can see that XLF has broken below its 100-day moving average on December 31 and is trend downwards since. Technical analysts view such crossovers as bearish.
Relative strength index
The RSI (relative strength index) is a technical indicator that is used to study overbought and oversold levels of a stock. Generally, if the RSI is above 70, it indicates the stock is overbought. An RSI figure below 30 suggests that the stock has been oversold.
In the chart above, we can see 14-day RSI for XLF is 36.8, suggesting that it is nearing oversold levels but is still away from being considered undervalued. Given the low RSI, investors may consider it a value buy for exposure to the financial sector, particularly because the Federal Reserve has begun raising interest rates.
Keep reading for a look at fund flows to XLF.