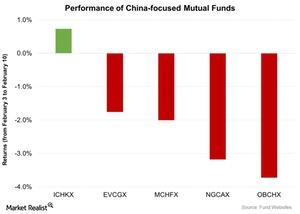 Will the Year of the Monkey Bring Good Fortune to China?
By Lynn Noah

Updated
SSE Composite Index was flat
China's stock markets have been closed since February 8 during the celebration of the Lunar New Year. The Year of the Monkey is believed to be energetic and positive. Leading up to the New Year, the Shanghai Stock Exchange Composite Index was flat for the week ending February 5 and closed at 2,763.49 points. The Chinese stock market ended flat despite the introduction of new rules under the QFII (Qualified Foreign Institutional Investor) scheme.
Article continues below advertisement
The SSE Composite Index includes all listed stocks (A shares and B shares) on the Shanghai and Shenzhen stock exchanges. A shares are shares denominated in domestic currency, or renminbi, and are available only to local investors. On the other hand, B shares are shares denominated in foreign currency such as the US dollar on the Shanghai Stock Exchange and in Hong Kong dollars on the Shenzhen Stock Exchange. B shares are available to foreign investors.
New QFII rules
On February 4, the State Administration of Foreign Exchange, China's foreign exchange regulator, announced new rules for its $80.8 billion QFII scheme, which will make it easier for investors to buy more stocks and bonds and allow investors to take money in and out of the country quickly. China's move to liberalize foreign investment has been welcomed by MSCI. With this change, the chances of China being included in the MSCI Emerging Market Index have also increased considerably. This would result in a large capital inflow to the country. Meanwhile, MSCI may not announce its decision to include China in the Emerging Market Index until June 2016, as the impact of the new rule may not be felt immediately.
Article continues below advertisement
Returns of China-focused mutual funds
From February 3 to February 10, 2016, the Guinness Atkinson China and Hong Kong Fund (ICHKX) rose 0.7%, while the Eaton Vance Greater China Growth Fund Class A (EVCGX), the Matthews China Fund Investor Class (MCHFX), and the Columbia Greater China Fund Class A Shares (NGCAX) fell 1.8%, 2.0%, and 3.2%, respectively. The Oberweis China Opportunities Fund (OBCHX) was the worst performer for the same period and fell 3.7%.
Due to the oil rout, the shares of China Petroleum & Chemical Corporation (SNP), CNOOC Limited (CEO), and PetroChina Company (PTR) fell 4.1%, 3.6%, and 2.8%, respectively, from February 3 to February 10. For the same period, the ADRs (American depository receipts) of Chinese companies such as 58.com (WUBA), Baidu (BIDU), and Alibaba Group Holding Limited (BABA) fell 13.8%, 6.1%, and 2.3%, respectively.