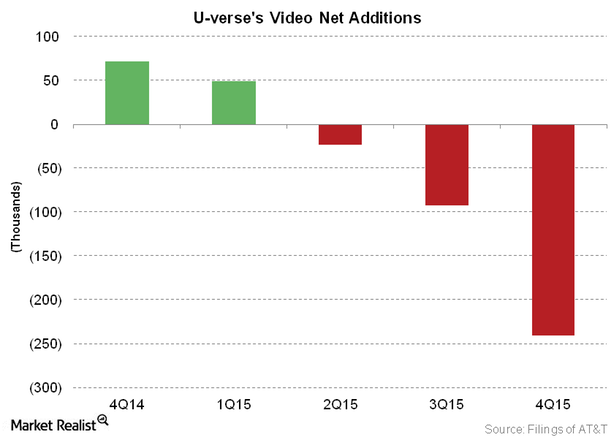 How Will the ATT–DIRECTV Merger Affect the Media Sector?
Impact of the AT&T–DIRECTV merger on the media sector
Comcast stated at a UBS (UBS) conference last year that the increased competition from the AT&T–DIRECTV merger was one of the reasons for its increased focus on deployment of its X1 video platform and its offering of its triple-play products according to market segmentation. The merger is also why it's trying out the new DOCSIS 3.1 technology for its high-speed Internet service before rolling out this technology early next year.
Comcast believes that these new initiatives will allow it to better face the increased competition from the AT&T–DIRECTV merger.
Article continues below advertisement
The formidable competition from the AT&T–DIRECTV merger has also caused pay-TV operators such as Dish Network (DISH) to pursue subscribers who will stay in the long term and will be profitable. Dish's subscriber acquisition costs have risen. Dish makes up 0.21% of the PowerShares QQQ Trust, Series 1 ETF (QQQ). QQQ also has 4.7% exposure to the television space.
AT&T–DIRECTV merger
AT&T acquired DIRECTV last year for a valuation of $63 billion. During 4Q15, revenue from AT&T's Entertainment Group was ~$13 billion. The video entertainment component represented ~71.2% of the segment's revenue stream during the quarter.
As you can see in the above graph, on a net basis, customer losses in AT&T's U-verse video component expanded sequentially in 4Q15. This metric for customer losses was at ~240,000 in 4Q15 compared to ~92,000 in 3Q15.
In 4Q15, AT&T's U-verse connections in video services fell ~5.2% year-over-year, reaching ~5.6 million at the end of 4Q15.
In the next part of this series, we'll explore the mixed reactions to Charter's proposed acquisition of Time Warner Cable and Bright House Networks.