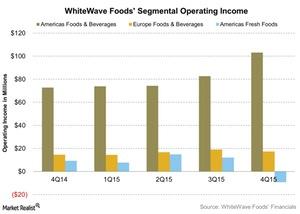 Did WhiteWave Foods' Revenue Meet Expectations in 4Q15?
By Sushree Mohanty

Updated
Revenue rose 13%
WhiteWave Foods (WWAV) was expected to report revenue of $1,034 million for 4Q15, a rise of 13.5% YoY (year-over-year). The company reported $1,027 million, an increase of ~13% compared to 4Q14. It missed estimates by a mere 0.68%. The company has been showing tremendous growth in revenue over the last several quarters. For 2015, revenue was expected to come in around $3,875 million, an increase of ~13% YoY.
Article continues below advertisement
The total sales for 2015 were $3,867 million, an increase of 12.5% compared to 2014. Strong growth in the Americas and Europe Foods & Beverages segments, along with contributions from acquisitions, drove the rise in net sales. However, this figure was partially offset by sales disruptions in the Americas Fresh Foods segment. Currency translation also reduced the overall growth rate by 2 points in both the 4Q15 and 2015 results.
Operating profit rose 30%
The adjusted operating profit for 4Q15 rose 30% to $114 million compared to $87 million in 4Q14. In 2015, it rose 24% to $375 million compared to $304 million in 2014. On a constant currency basis, the adjusted operating income rose 34% in the 4Q15 compared to 4Q14. It rose 28% in 2015 compared to 2014. The company's increasing scale of operations and continued focus on driving operational efficiencies contributed to the rise in operating income.
Article continues below advertisement
Segmental operating income
The adjusted operating income for Americas Foods & Beverages increased 36% to $109 million in 4Q15 and 26% to $345 million in 2015. These figures are in comparison to 4Q14 and 2014, respectively. Adjusted constant currency operating margins in this segment rose over 220 basis points in 4Q15 and over 120 basis points in 2015. A favorable sales mix, strong growth in all of WWAV's core brands, and the profit contributions from the company's recent acquisitions of Vega and Wallaby Yogurt Company drove this increase.
Adjusted operating income for the Americas Fresh Foods segment declined 50% in 4Q15. This excluded higher costs from the SAP (systems, applications, and products) conversion. Lower sales and related cost absorption drove down the 2015 adjusted operating income by 11%. Operating income for the Europe Foods & Beverages segment increased 21% on an adjusted basis for 4Q15 and 29% for 2015. Improved scale of operations and a favorable currency translation lent a hand to the operating profit growth.
Peers' revenues
WhiteWave Foods' peers in the industry include The J.M. Smucker Company (SJM), The Campbell Soup Company (CPB), and Dean Foods (DF). These companies reported revenues of $2,077 million, $2,203 million, and $2,033 million, respectively, for their last quarters. The PowerShares S&P 500 Low Volatility Portfolio (SPLV) and the PowerShares Dynamic Food & Beverage Portfolio (PBJ) invest 1.2% and 3.0% of their respective holdings in CPB.
In the next part of this series, we'll take a look at how the WhiteWave Foods' segments contributed to the total revenue in 4Q15 and 2015.