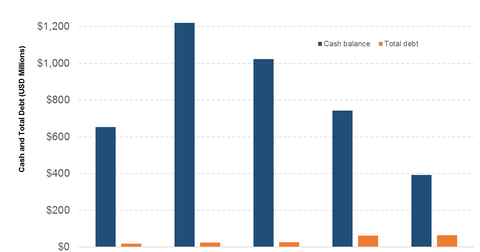 Where's Whole Foods' Headed in 2016?
By Sonya Bells

Updated
Whole Foods and the analyst community
The big question is this: What will happen to Whole Foods Market (WFM) in coming quarters? Will the company's same-store sales continue to struggle? Will the rising price investments continue to depress margins, or will they push back same store sales? Will the company's cost-cutting initiatives reboot the company's bottom line?
While it will take a long time to get answers to most of the above questions, we can still cast some light on what the analyst community thinks will happen to WFM's earnings in the coming quarter. But before that, let's briefly look at company's guidance for 2016.
Article continues below advertisement
What's Whole Foods expecting in fiscal 2016?
The company has been anticipating a sales growth of 3%–5% in fiscal 2016 (compared to 8.4% growth in fiscal 2015) with flat-to-negative same-store sales. The company's co-CEO, John Mackey, pointed out in the 4Q15 conference call that "the higher end of our sales outlook reflects a 2.8% two-year comp, in line with the current run rate, and implies flat comps for the year, improving from negative 2% in Q1, to relatively flat in Q2 and Q3, to 3% positive by Q4." Mackey added that "the lower end of our sales outlook reflects the possibility that comps could get marginally worse before they get better, with an inflection point later in the year."
The company is expecting a decline in operating margins by 75 basis points (from the 6.1% in fiscal 2015), resulting primarily from the cost of programs to build traffic and sales, higher occupancy, depreciation, and other expenses. The EPS target stands at $1.50 (or greater), which is almost the same as that of the previous year.
Article continues below advertisement
Balance sheet
It needs to be noted that the company has a strong balance sheet. At the end of fiscal 2015, the company's total long-term debt stood at $62 million, compared to a cash balance of $392 million. It has the lowest leverage ratio (measured by debt-to-assets) in the industry. In fiscal 2015, Whole Foods' total debt-to-asset ratio was 1.1x as compared to Kroger's (KR) 38x, Sprouts Farmers Market's (SFM) 30x, Wal-Mart's (WMT) 24x and Costco's (COST) 18x. It needs to be noted that he company has been funding its store growth using its robust cash flows, and there still remains enough room to expand through raising additional debt.
Investors looking for exposure to food retail stocks can choose to invest in the Fidelity MSCI Consumer Staples Index ETF (FSTA). Whole Foods Market (WFM), Kroger (KR), and Sprouts Farmers Market (SFM), and The Fresh Market (TFM) all have exposure in FTSA and together account for 2.6% of the index weight.
Now let's look at the latest Wall Street estimates for Whole Foods.