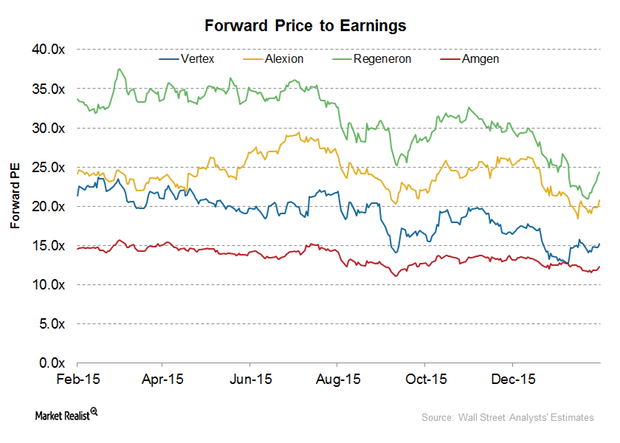 Why Is Vertex Pharmaceuticals' Valuation at a Discount?
PE valuation for Vertex Pharmaceuticals
On February 17, 2016, Vertex Pharmaceuticals (VRTX) was trading at a forward PE (price-to-earnings) multiple of 15.20x. The company is trading at a discount when compared to peers such as Alexion Pharmaceuticals (ALXN) and Regeneron Pharmaceuticals (REGN), which were trading at a forward PE of 20.80x and 24.32x, respectively, that same day.
Vertex is trading at a premium compared to Amgen (AMGN), whose forward PE multiple was 12.29x on February 17, 2016.
Article continues below advertisement
Why forward PE?
From an investor's perspective, PE is one of the most valuable metrics, as it focuses on a company's future earnings growth. Pharmaceutical and biotechnology companies are growth-driven rather than efficiency-driven. The Market is forward-looking in nature. Forward PE factors in a company's future earnings prospects are thus a better metric than trailing PE, which takes into account the last 12 months earnings.
For Vertex, the share price and forward PE have moved in line over the past one year. Perhaps investors were confident about the company's future earnings. For 2016, analysts expect sales growth to be ~105% followed by 50% in 2017. The growth might have been factored into the multiple, as it improved after 4Q15 earnings along with a rising share price.
Average PE over the past one year for Vertex is 19.02x. The current multiple for the company is lower than the historic average. In the next article, we'll try to analyze Vertex's performance based on the company's operating efficiency.
To diversify the risk of investing directly in the equity of Vertex Pharmaceuticals, investors can look for options such as the iShares Nasdaq Biotechnology ETF (IBB). IBB holds 2.7% of its total holdings in Vertex Pharmaceuticals.