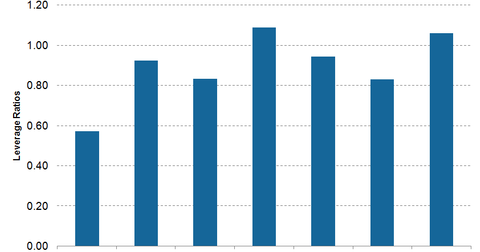 Should UPS's Rising Leverage Be a Concern for Investors?
By Ally Schmidt

Updated
Increasing leverage
The courier industry is undergoing a phase of consolidation with both major players, United Parcel Service (UPS) and FedEx (FDX), aggressively acquiring smaller players. UPS's most recent acquisition was Coyote Logistics for $1.8 billion while FDX's was TNT Express for ~$5 billion.
All these acquisitions have come at the cost of increasing leverage. UPS's debt has increased from $11 billion at the end of 2014 to ~$15 billion at the end of 3Q15.
Article continues below advertisement
The company's debt-to-EBITDA ratio increased from 1.6x in 4Q14 to 1.7x in 3Q15. However, the company's net debt to EBITDA has remained constant at 1x. At the end of its most recent quarter, FDX also reported net debt to EBITDA of 1x. Other logistics players like YRX Worldwide (YRCW), Con-way (CNW), and C.H. Robinson Worldwide (CHRW) also have high amounts of debt. At the end of their most recent quarters, net debt to EBITDA ratio for YRCW, CNW, and CHRW was 2.9x, 0.57x, and 0.85x, respectively. UPS forms ~2.6% of the iShares U.S. Industrials ETF (IYJ).
Strong cash flows will help
UPS's increasing cash flows have helped maintain its net debt to EBITDA at 1x despite increasing debt. Cash on the balance sheet increased to $5 billion at the end of 2015 from $3 billion in 2014. UPS generated $7.4 billion in cash flow from operations (or CFO) in 2015 compared to $5.7 billion in 2014.
Why should investors pay attention to leverage?
UPS's business is highly dependent on global economic conditions and its ability to cope with its major cost, fuel. Management agrees that global economic conditions and the timing of a fuel price rebound remain uncertain.
High leverage and interest costs reduce UPS's ability to cope with an industry downturn, thus making it a risky stock.