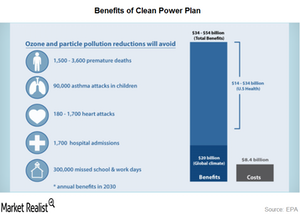 Supreme Court Stays the Clean Power Plan: What's the Impact?
By Sheldon Krieger

Feb. 17 2016, Published 3:43 p.m. ET
The Supreme Court and the Clean Power Plan
On February 9, 2016, the U.S. Supreme Court issued a stay of the EPA's (Environmental Protection Agency) Clean Power Plan. As a result, the EPA can't implement the rule until all legal challenges are resolved.
The case was filed by 27 states, coal (KOL) mining companies, and utilities challenging the authority of the EPA to regulate greenhouse gas emissions from power plants. They opposed the plan, arguing that the power plants are already regulated by the Clean Air Act.
Article continues below advertisement
The Clean Power Plan
The Clean Power Plan is a climate change initiative instituted by the Obama administration. The plan targets a 32% reduction in greenhouse gas emissions by 2030 compared to 2005 levels. It was initially meant to achieve long-term carbon reduction goals agreed to by the United States at the 21st yearly session of the Conference of Parties (or COP21) in Paris. It reflects the commitment of the United States to reduce greenhouse gas emissions. According to the EPA, the benefits of the Clean Power Plan outweigh the compliance cost in the long  term.
Clean Power Plan implementation timeline
The Clean Power Plan was announced on August 3, 2015, and the EPA set nationwide rules to reduce carbon emissions. The states were supposed to submit their implementation plans by September 2016 with a compliance target of 2020.
With the Supreme Court's stay on the implementation of the Clean Power Plan and with the Obama administration in its final year, the fate of the Clean Power Plan remains uncertain.
Since the announcement of the Clean Power Plan, stock prices of major coal producers such as Peabody Energy (BTU), Arch Coal (ACIIQ), Alpha Natural Resources (ANRZQ), and Cloud Peak Energy (CLD) witnessed major corrections and continued their downturn.
In the next parts of this series, we'll discuss the impacts of the Supreme Court's stay on coal mining and renewable energy industries.