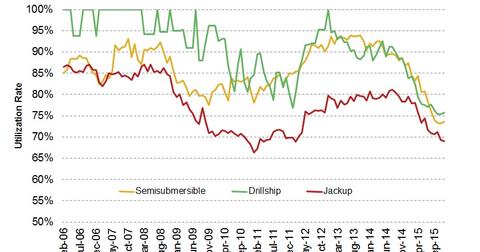 Understanding the Fight between Offshore Drillers and Lower Utilization Rates
By Sue Goodridge

Updated
Utilization rate
In offshore oil drilling, utilization rate equals the ratio of working rigs to the number of available rigs. The so-called "rig zone" includes cold-stacked rigs in the total available rigs. A fall in rig count signifies a decreased number of working rigs, and so a fall in rig count negatively impacts the utilization rate.
More specifically, higher utilization rates signify a lower mismatch between supply and demand for rigs. A lower utilization rate indicates a greater mismatch between supply and demand for rigs, meaning that a higher utilization rate attracts a higher day rate, and vice versa.
Article continues below advertisement
How companies react to lower utilization
When the demand for rigs is low, companies find it difficult to secure work for their rigs, and because the cost of maintaining rigs is very high, profit margins of companies tend to tumble if companies have idle rigs. Thus, to reduce costs and maintain profit margins, offshore drillers such as Diamond Offshore (DO), Noble Corporation (NE), Ensco (ESV), Transocean (RIG), Atwood Oceanics (ATW), Rowan Companies (RDC), and Seadrill (SDRL) resort to stacking rigs. There are two main types of rig stacking: cold stacking and warm stacking. Stacking helps offshore drillers (OIH) fight industry downturns because it significantly reduces costs.
Warm stacking versus cold stacking
Warm stacked rigs are idle but still operational. In this state, the rig retains most of its crew. These are generally actively marketed. By warm stacking, the company avoids some maintenance expenses and some labor costs.
Generally, when the offshore drilling company does not have work prospects for a rig for a long period and it wants to significantly cut down its costs, it cold stacks the rig. In cold stacking, all the rig crew is laid off and almost all the fixed costs are avoided, except for insurance.
Continue to the next part for further discussion about the rig market.