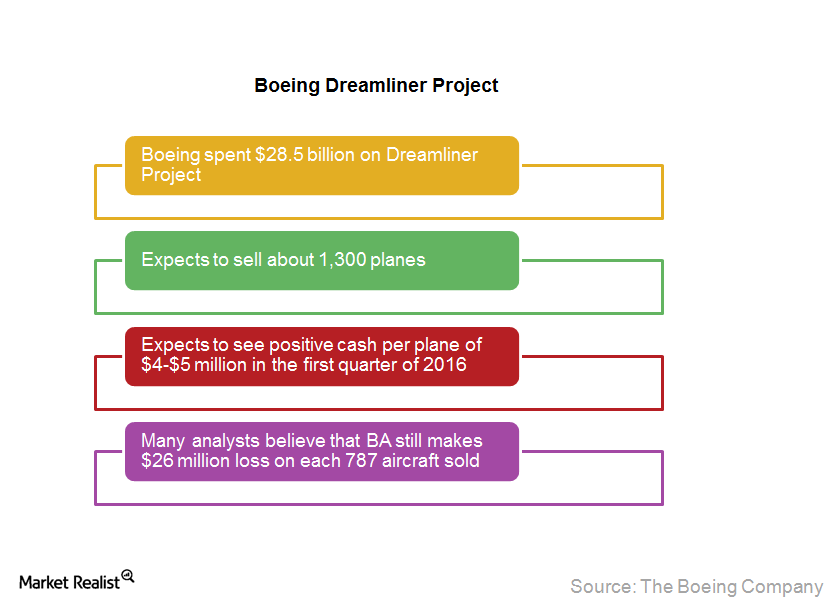 Understanding Boeing's 787 Dreamliner Project
By Ally Schmidt

Feb. 18 2016, Updated 12:06 p.m. ET
Boeing's 787 Dreamliner project
Boeing's (BA) 787 Dreamliner Project is the company's biggest bet in the long-range, wide-body segment, outpacing its archrival Airbus. However, the road has not been smooth for Boeing since it has had to face a host of issues. These include technical delays due to problems such as engine failures, fuel leakages, wiring issues, and a fire on an empty jet, which led to the loss of more than $1 billion in production costs.
Boeing has been continuously investing labor and capital into the production of the Dreamliner series in order to improve efficiency and lower the production costs for the jet.
Article continues below advertisement
Perseverance pays off
Boeing's perseverance looks to be finally paying off as the Dreamliner program is finally hitting its stride. The company has reported receiving fresh and repeat orders even from major buyers, which include United Continental (UAL), American Airlines (AAL), Delta Air Lines (DAL), China Southern Airlines (ZNH), Singapore Airlines, and British Airways. This indicates that the jumbo jet has been successful in building strong customer support and confidence.
Project to turn positive
Boeing (BA) reported that it expects to sell about 1,300 planes. The aerospace giant also expects that the program would turn profitable for the company once the deliveries start offsetting the $28.5 billion that it spent on its inventory and manufacturing.
The company has already booked a tax charge of $201 million in 4Q15 and similar charges in 3Q15 and 2Q15. The company expects to see positive cash flow per plane of $4 million–$5 million in the first quarter of 2016.
However, according to industry consultant Richard Aboulafia of the Teal Group, "Boeing has to build the 787-9 for no more than $91m, including engines if there is any hope of recovering the deferred production costs." Some analysts believe that BA still makes a $26 million loss on each 787 aircraft sold.
BA forms 5.16% of the PowerShare Buyback Achievers ETF (PKW).