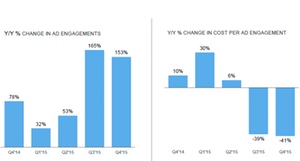 Twitter's Ad Revenues Surge despite Flat User Growth
By Parker Thomas

Updated
800 million visitors
For the last few quarters, Twitter (TWTR) has found it difficult to increase its number of monthly active users (or MAUs). One of its revenue drivers is the monetization of users through advertisements. In 4Q15, the company's MAU growth remained flat at 320 million compared to the previous quarter. Year-over-year (YoY) growth from MAUs came in at 9%.
MAUs from the international market stood at 254 million compared to 65 million in the United States, a rise of 11% and 3% YoY, respectively. Additionally, Mobile MAUs represent approximately 80% of total MAUs. Twitter's total visitors, including MAUs and monthly logged-out visitors, came in at 800 million in 4Q15.
Article continues below advertisement
Video ads
Twitter's ad revenues are primarily driven by strong growth in its video ads. The company's cost per ad engagement fell by 41%, primarily due to its shift to auto-play videos, which deliver more engagement at a much lower cost than click-to-play video ads. The company reported that its growth from video ad revenues increased by more than double compared to its total advertising revenues growth.
Promoted Tweets
During the end of last year, Twitter introduced a new feature that adds value for advertisers by targeting logged-out users. The company plans to embed ads on users' profiles. Tweets are embedded in search results and thousands of other websites, apps, newsletters, and emails, which visitors or guest users can click through to land on the company's website. After this new ad feature is implemented, visitors will see targeted ads even if they are signed off.
This new feature from Twitter has made a positive impact on its revenues this quarter. 4Q15 saw a significant increase in the company's ad revenues despite its flat MAU growth.
During 4Q15, Twitter's revenues from advertisement came in at $641 million, a rise of 25% quarter-over-quarter compared to 35% quarter-over-quarter in 4Q14. Ad revenues generated from its US and international segments came in at $410 million and $230 million in 4Q15, respectively. These were rises of 48% YoY and 49% YoY, respectively.
The PowerShares QQQ ETF (QQQ) is a portfolio of 107 stocks, of which eBay (EBAY), Microsoft (MSFT), Amazon (AMZN), and Google (GOOG) constitute 0.65%, 7.4%, 5.1%, and 4.5%, respectively.