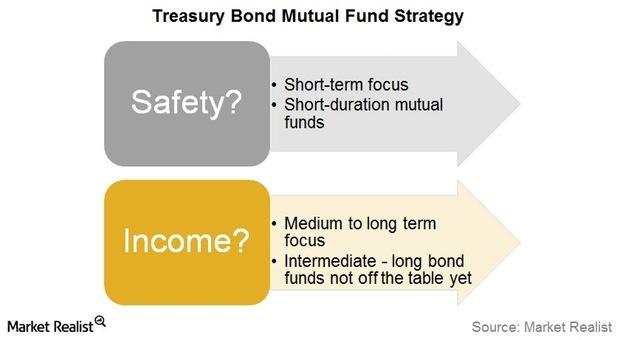 Are You a Treasury Bond Mutual Fund Investor by Choice or Chance?
By David Ashworth

Feb. 29 2016, Published 2:02 p.m. ET
Treasuries: Your strategy for the remainder of 2016
Before 2016 began, there was much debate regarding the number of rate hikes in 2016. Most expectations were in the range of zero to five, with two to three hikes expected by several Market participants. This shows just how varied expectations have been regarding rate hikes, and how portfolios could be differently positioned given such anticipation.
Much of what you can do with your Treasury bond mutual fund for the remainder of 2016 depends on what your intention of investing in the instrument is.
Article continues below advertisement
You're looking for safety
If you've sought the shelter of Treasuries due to recent Market volatility but have no particular interest in investing in these bonds, you should likely target only short-term Treasuries (OPGVX) to the maximum of one year. Clearer pictures of the US and global economies should emerge as the year continues, giving you a better idea about expected volatility and interest rates, which would impact financials and insurers (ALL) (USB) (JPM).
A short-term Treasury bond mutual fund experiences much less volatility, and has a shorter duration, making it less sensitive to a rising interest rate environment than other categories. Keep in mind, though, that these funds generate lower incomes as well.
Should you abandon intermediate and long-term bond funds?
This is where investing directly in bonds and via a bond mutual fund is different. Bond mutual funds are actively managed, and fund managers can change the portfolio according to the change in expectation toward the interest rate.
A rising interest rate environment can be helpful to investors looking for income from their bond mutual funds as coupon payments rise. This rise in income can offset the fall in bond prices. This strategy can be useful for investors who are invested in Treasury bond mutual funds by choice and not because of the rate environment. They should have medium- to long-term horizons.
As we saw in the first article of this series, longer-duration bonds (PAGNX) (JHGIX) have provided the best price returns, both in year-to-date 2016 and in the past year. This is because inflation expectations have not moved along with the rate hike. Since inflation expectations drive longer-maturity bonds, these bonds have not been adversely impacted, as is generally the case. It's usually necessary to be patient for longer duration bonds' incomes to catch-up with the falls in their prices.
From Treasuries, let's move on to investment-grade corporate bonds in the next article.