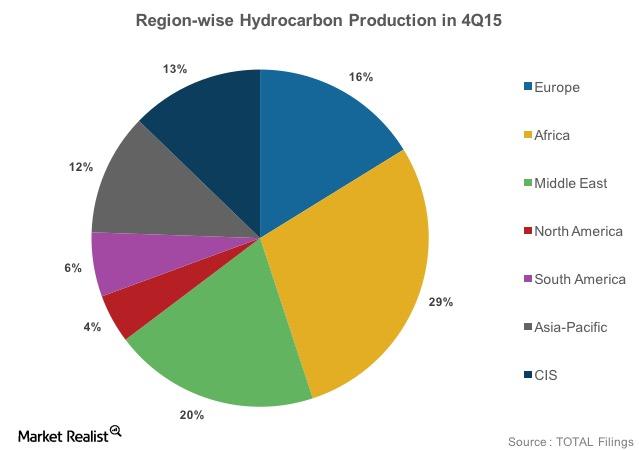 How Did Total's Upstream Segment Perform in 4Q15?
Total's upstream segment
Total (TOT) produced 2.3 MMboepd (million barrels of oil equivalent per day) in 4Q15 from its worldwide operations. It is imperative to note that of the total production, 2 MMboepd, or 84%, is from operations outside Europe.
Article continues below advertisement
Total's production mix and realizations
In 4Q15, liquids accounted for 1.3 MMboed, or 53%, of the total production. The remaining was contributed by natural gas. TOT's peers ExxonMobil (XOM), BP (BP), and Royal Dutch Shell's (RDS.A) production mixes have liquids to the tune of 59%, 53%, and 53%, respectively. The Energy Select Sector SPDR ETF (XLE) has a 36% exposure to ExxonMobil (XOM) and Chevron (CVX).
Oil and natural gas prices have fallen sharply in the past few quarters. TOT's average liquids realizations fell from $61.70 per barrel in 4Q14 to $38 per barrel in 4Q15. Similarly, TOT's natural gas realizations fell from $6.30 per MMBtu (British thermal units in millions) in 4Q14 to $4.50 per MMBtu in 4Q15. Due to a fall in liquids as well as natural gas realizations, TOT's average hydrocarbon realizations fell from $50.50 per boe (barrel of oil equivalent) in 4Q14 to $33.10 per boe in 4Q15.
TOT's upstream projects
In 4Q15, Total (TOT) noted a 5.5% surge in its hydrocarbon production over 4Q14. Of this, 4% was attributed to new project start-ups and ramp-ups in the quarter. These included the West Franklin Phase 2, Eldfisk II, and Termokarstovoye projects. Also, Total shipped its first liquefied natural gas cargo from the Gladstone project in Australia.
Total proved reserves of 11.6 billion boe on December 31, 2015, which implies more than 13 years of reserve life based on the 2015 average production rate. TOT's reserve replacement ratio stood at 107% in 2015.
TOT expects to raise production by 4% in 2016 over 2015. TOT has five projects expected to start up in 2016. One of these, Laggan-Tormore, started production on February 8, 2016.