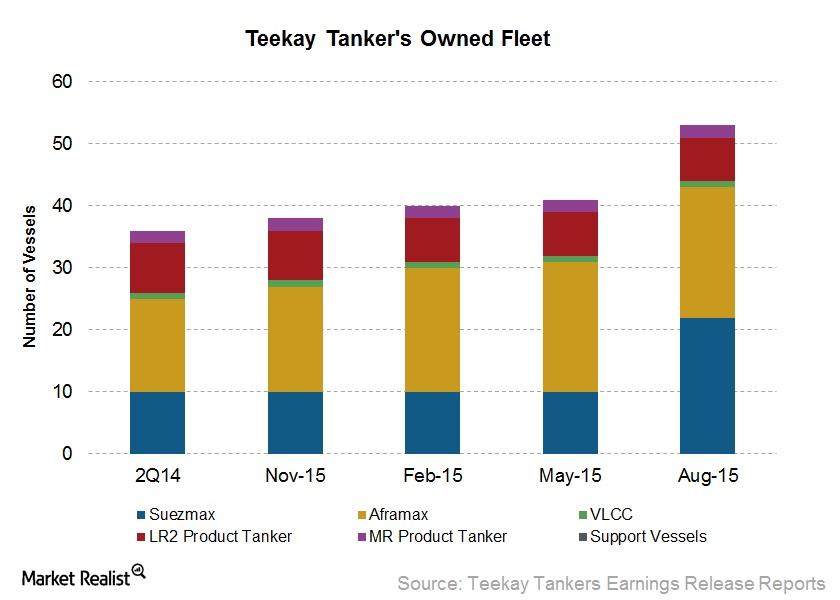 Teekay in the Gulf of Mexico: What's the Ship-To-Ship Business?
By Sue Goodridge

Nov. 20 2020, Updated 3:20 p.m. ET
Teekay Tankers' fleet
Teekay Tankers (TNK) has a total fleet of 64 tankers, which includes 22 Suezmax, 24 Aframax, one VLCC (very large crude carrier), 11 product tankers, and six STS (ship-to-ship) support vessels. Though the total number of tankers remained the same from the third quarter, the total number of owned vessels increased from 51 to 52. Other vessels are chartered in.
Article continues below advertisement
Charter-in update
One Long Range 2 product tanker's charter-in contract expired in January 2016, bringing the total number of chartered-in vessels to 12 as of February 5, compared with 13 in November 2015.
Article continues below advertisement
TNK's expansion
Teekay announced the acquisition of two modern purpose-built Lightering Aframax tankers in mid-December 2015 for a total purchase price of $80 million. This complements the company's ship-to-ship transfer business and expands its presence in the US Gulf of Mexico.
What's the ship-to-ship business?
Normally, seaborne oil trade takes place through very large ships—VLCCs and Suezmax vessels. In some locations, these large ships are restricted. In these locations, oil needs to be loaded onto smaller vessels and transported to refineries. This is the ship-to-ship business. Along with transfer services for crude oil (DBO), gas, and dry bulk industries, companies in this business also provide consultancy and terminal management services.
Acquisition details
The acquisition was financed by a combination of a $50 million revolving credit facility and the company's existing liquidity. The company believes this acquisition will be immediately accretive to its earnings and free cash flow per share.
Also, the company believes this acquisition will allow it to take advantage of developing import and export activities in the US Gulf related to the recent removal of export restrictions on US crude oil. In the next few articles we'll take a deeper look at the lifting of export restrictions on US crude oil.